Bryson DeChambeau's finish at the 2018 Porsche European Open will quite possibly replace Jean Van De Velde's 1999 British Open historical debacle in future reels after this Sunday collapse:
"Bogey-bogey-par-triple bogey – putting two balls in the water on 18 – while his playing competitor McEvoy made a lengthy birdie putt on the 72nd to claim his first European Tour title by a single stroke." via Golf Channel
An obviously frustrated DeChambeau quickly exited from the 18th green with barely a congratulatory handshake to the winner - a tirade of social media fervor soon followed. An apology was issued by the young, American golfer through his social channel but this apparent lack of
golf etiquette
has been called everything from disgraceful to a lack of sportsmanship. Sure there was money at stake, as well as ranking and position but...
Can an Instagram post make up for this breach of protocol? What can DeChambeau, and amateur golfers learn from this?
Great Read:
Is Golf Becoming an Impolite Game?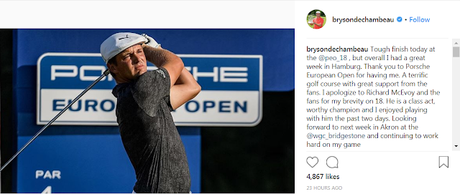 After posting the Golf Channel article onto a Facebook group, most of the commentary was negative, however, one commenter stated the following,
"We've all been there."
Yes, many golfers have played to the point of frustration whether there is a $2 Nassau, $20 or $100 on the line ...golf can be a baffling game, especially when you are racking up double bogeys and things aren't going your way; it is all in how we handle the pressure when facing the public, whether it's to your buddies or to the world.
Reacting to pressure rarely gives you desired results - the key to overcoming pressure on the golf course when your round is falling to bits is to realize that it is a game and that your overreaction will only spiral causing you to sink deeper, and to lose more strokes.
Golf for Beginners wants you to consider these three tips to help control frustrating situations:
1. You Hit a Really Bad Shot: Instead of negative self-talk, as you are traveling to the point of relief, plan your next shot, what club you are going to use and how you are going to properly execute to get back in play.
2.  You Flub the Very Next Shot: Okay, so this hole isn't going as you planned...lucky this is only one of 18 you have to face during a round! Try a few deep breaths to help calm you. "Stay in the present and focus on the shot at hand," says PGA Professional
Rob Labritz
.
3. You Really Need to Vent: STOP! Before you throw a hissy fit or throw a golf club - take it out on the golf ball instead! Try squeezing your golf ball to release some tension.
No one likes to play golf with partners who have temper tantrums or show their negative emotions on their sleeves. If you are the person who wins that day, you should be congratulated, as you would like the same respect given to you.
Special note to a friend reading this blog...
"We've all been in a group where the atmosphere has been soured by someone's temper, and it does affect the mood. Respect your playing partners by keeping things convivial. They have come for a fun day out, not to play in silence." (courtesy of
golf-monthly.co.uk
).
It is easy to become frustrated when the golf course doesn't offer you any member's bounces and the water becomes a magnet on almost every hole but, managing your temper and putting the game in perspective will help put you back on track.
I hope that Bryson took something positive away from this tournament. As the great Bobby Jones once said,
"I never learned anything from a match that I won."
Add to the conversation in the comments section of this golf blog and on
Twitter @Golf4Beginners
.