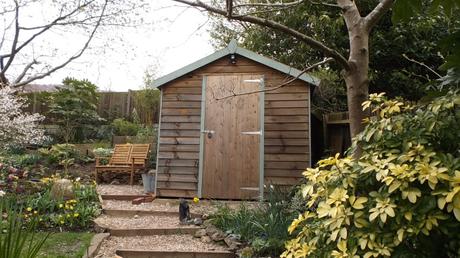 I have finally painted the shed.  As I said in my End of Month post I have been dithering about what color to paint it for a year or more.  The first plan was black with orange accents but as time progressed I realised that this would make the shed stand out like a sore thumb, not really what I wanted.  I then settled on a green with paler green accents.  Then when I was writing the post and looking at the photos I decided that actually I quite liked the color the shed was.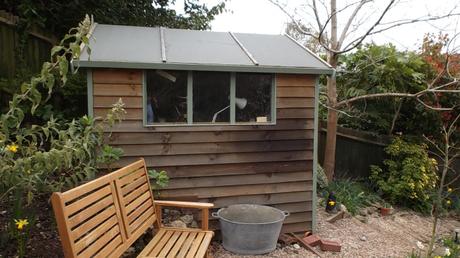 The majority of readers also agreed that the natural color worked well in my garden.  So I opted for a clear preservative with a willow accent just to give it a little character.  I am incredibly pleased with it.  It looks smart but also a little bit individual and the clear preservative has enhanced the natural silvering of the wood.  Apart from part of the side of the shed (above) where I had wiped out my brushes from staining the fence last year with a view to doing the shed the same color but it's not that obvious when you are in the garden.  We have agreed that the bench and step risers will stay the same color as they currently are.  The willow ties in with the back door to the house which I like.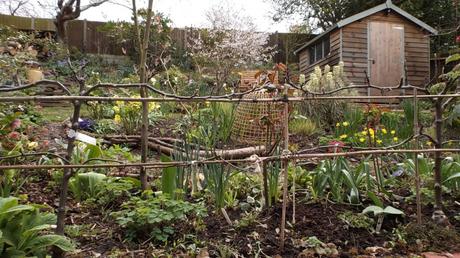 Next up I have commissioned my eldest to make me some better supports for the step over apples rather than my Heath Robinson bamboo cane and string contraption.  The new supports will be painted willow and if I am lucky he is going to turn some finials to go on top of the posts which should look rather smart.  Then I might suggest an obelisk but I will keep quiet on that idea for a while as he is a busy chap.