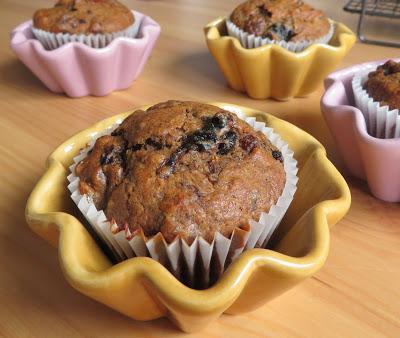 Fruit and Nut Muffins. Oh boy, are these fabulous muffins. Moist and delicious and filled with not one, not two, but three dried fruits.  Chopped dates, raisins and chopped prunes!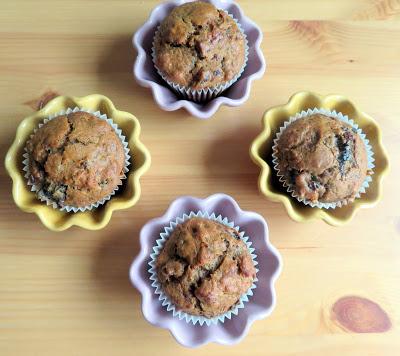 Believe it or not, there is NO refined sugars in this recipe. In fact there is no sugar at all.  All of the sweetness relies on those lovely dried fruits, and trust me when I say that they are just sweet enough.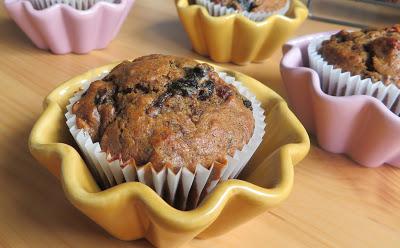 In fact there is only 1/2 cup of butter in the whole recipe, which breaks down to 86 calories per muffin, so over all thats not too bad.  Its less than a tablespoon per muffin.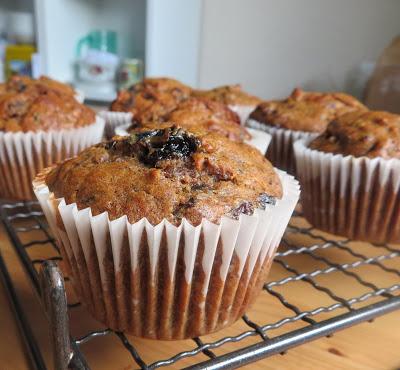 Low fat, no sugar  . . . and terrifically moist and delicious. There is nothing wrong with these!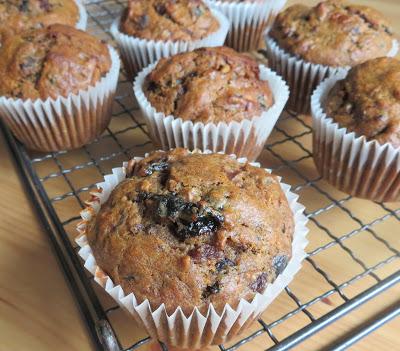 You cook the fruit in a saucepan along with a cup of water to begin with, like making a date and nut loaf. It kind of melts down a bit, at least the dates to   . . .  into a sweet caramel-like mass. I put the butter right into that hot mixture and it melts down into it.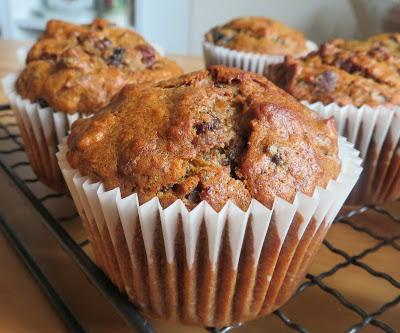 Once it cools to lukewarm, you can add it to the flour. The only leavening is baking soda.  It starts to work as soon as you add the fruit and eggs, so work quickly then to get the batter in the pan ready to bake.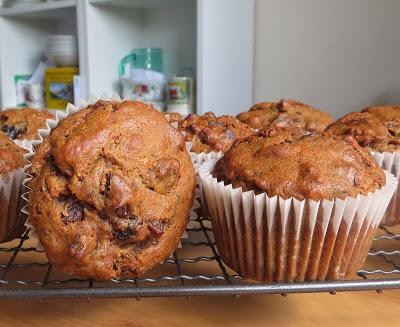 As you can see, they rose up beautifully  . . .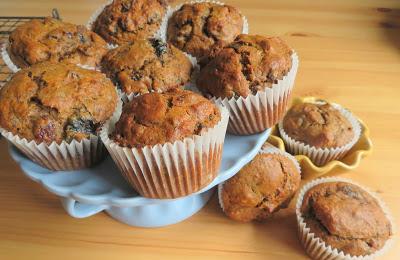 They are loaded in natural fiber from the dates and the raisins and the prunes  . . .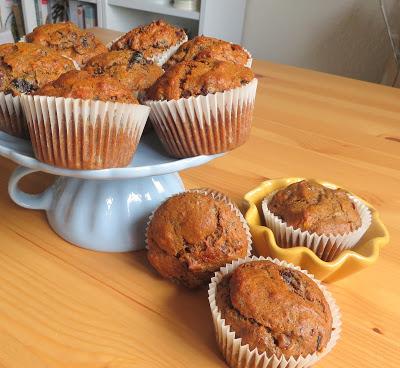 The toasted walnuts add a lovely crunch.   I always toast my walnuts when I am baking with them.  Its very easy to do.  Just pop them onto a baking sheet and toast them into a hot oven (200*C/400*F) for about 8 to 10 minutes. You will be able to smell their nuttiness. Toasted nuts just taste better in my opinion. Its not necessary to toast them, but I always do.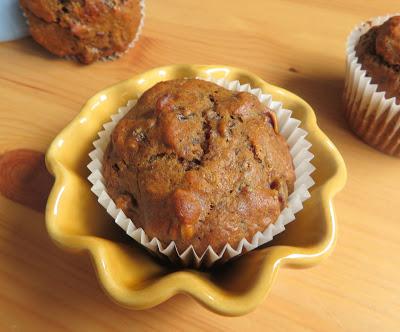 Don't you love my little ruffled muffin cups.  I got them from the Scandanavian Pantry. They are so cute!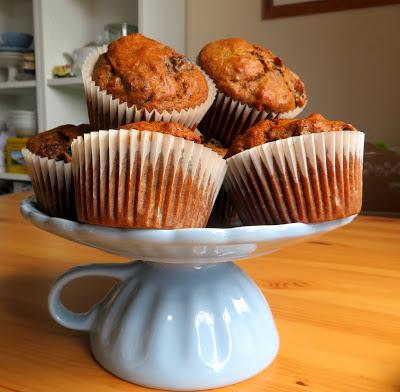 I just adore anything Scandanavian . . .  don't you?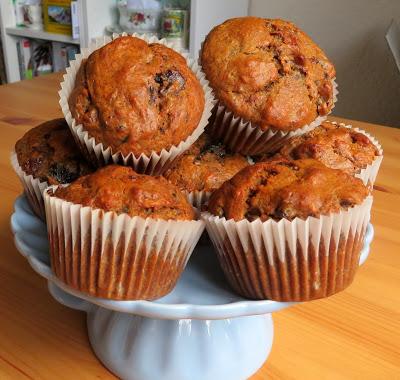 If I could afford it I would kit my whole house out in Scandanavian style  . . .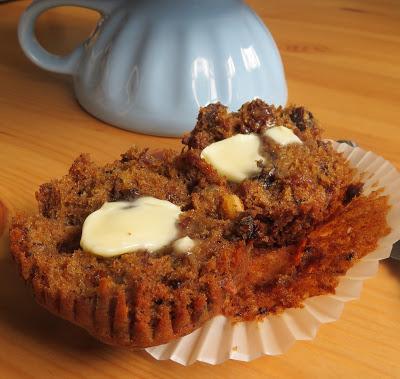 Back to the muffins, because they are low in sugar and fat, and high in fibre, you won't mind indulging yourself in a little bit of butter spreading  . . .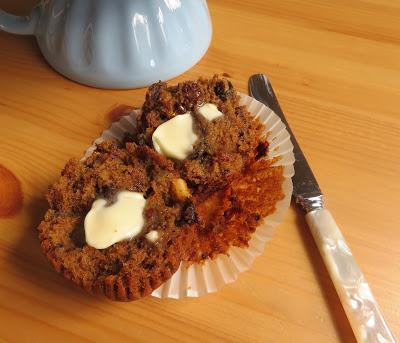 Its not necessary mind you  . . .  but awfully nice all the same. 😁😁  
Fruit & Nut Muffins
Print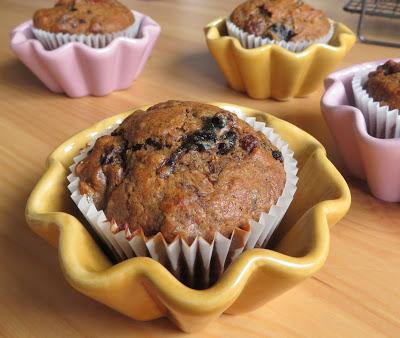 Yield: 10
Author:
Marie Rayner
prep time: 15 M
cook time: 20 M
total time: 35 M
These muffins are incredibly moist and delicious.  Serve warm, split and spread with butter for an incredible taste treat! There is no sugar in these. They are sweetened by the dried fruit, and are filled with lovely flavours.
Ingredients:
150g chopped dates (1 cup)
75g chopped prunes (1/2 cup)
75g raisins (1/2 cup)
240ml water (1 cup)
120g butter (1/2 cup)
1/4 sp salt
140g flour (1 cup)
1 tsp bicarbonate of soda (baking soda)
2 large free range eggs, whisked lightly
1 tsp vanilla
60g toasted chopped walnuts (1/2 cup)
Instructions:
Place the dates, prunes and raisins in a saucepan with the water. Bring to the boil, then reduce to a slow simmer and cook for about 8 minutes until soft. Remove from the heat.  Add the butter and allow it to melt.
Preheat the oven to 180*C/350*F/ gas mark 4.  Line 10 muffin cups with paper liners.
Sift the flour, salt and soda into a bowl.  Add the beaten eggs, vanilla and date mixture and mix all together just to combine. Fold in the walnuts.
Divide the mixture between the muffin cups.
Bake for 20 minutes, until well risen and a toothpick inserted in the center of one comes out clean.
Remove to a wire rack to cool somewhat before eating.  These are gorgeous served warm and spread with butter.
Store any leftovers in an airtight container.
Did you make this recipe?
Tag @marierayner5530 on instagram and hashtag it #EnglishKitchenCreated using
The Recipes Generator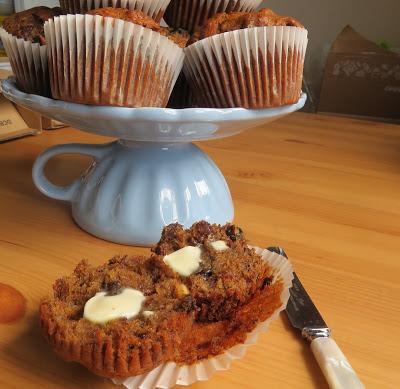 This content (written and photography) is the sole property of  The English Kitchen. Any reposting or misuse is not permitted. If you are reading this elsewhere, please know that it is stolen content and you may report it to me at:
[email protected]
Thanks! 

Follow my blog with Bloglovin