Have some fun with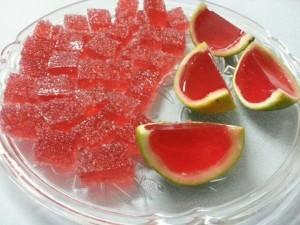 these quick and easy fruit jelly candies…
Basis Jelly Recipe :
Ingredients:
1 cup cherry juice (or  any juice of your choice)
1 cup water
1/4 cup sugar
2 tbs gelatin
Method:
Dissolve the gelatin in water. In a saucepan combine juice, sugar, and water with gelatin
Bring it to boil over medium heat. Stir occasionally making sure gelatin is mixed well. Let it boil for about 2 minutes.
Remove from the heat pour into individual cups or molds, or in a small glass tray. Refrigerate for about 3-4 hours.
Jelly is ready to serve.
Coat it with granulated sugar and serve
Method for Watermelon Shots:
Cut oranges/sweet lime in half and scoop out the middle
Pour jelly mixture into it
Refrigerate fr 2 -3 hours..
Once set, slice into segments and enjoy !
-Courtesy Ankita Sejwal