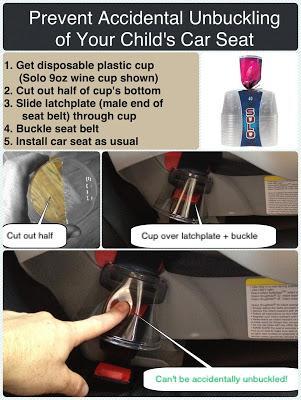 The Car Seat Lady
posted:
Tip
(and mini craft project)
of the day: prevent accidental unbuckling of your child's car seat!
If your child's car seat is installed with a seat belt, chances are that a well-meaning back seat passenger
(grandma, your 6-year-old in her booster, perhaps even you!)
accidentally unbuckled the seat belt holding the baby's car seat instead of your own seat belt.
See how you can use a Solo disposable plastic or paper cup to prevent these accidents
(but still allow access to the buckle in case of emergency).
P.S. To those who want to cover the buckle with tape, please don't - it just makes a sticky mess and can interfere with proper use of the seat belt in the future.
NOTE:
Some cheap plastic cups crack very easily and actually present a hazard to your little ones fingers should they play with it.
I suggest instead using a paper cup or even the
silicone cupcake liners
. If you would like something commercially made, Amazon has a list of
Buckle Guards
The Car Seat Lady
posted: The cups I use are the Solo cups which are quite heavy duty
(same company that makes the big red cups so often used for beer)
- and have not had issues with them cracking. The cup I used is not a choking hazard
(I'm a pediatrician and am very aware about the dangers of choking hazards)
. I'd much rather a child's finger gets cut
(which it won't the way I have designed this cup cover)
than a child dies because the parent didn't realize the car seat had been accidentally unbuckled.
From our Facebook fan page:LouJean Schenk posted:
Awesome idea!
Misty DeGroff posted:
I would not do this as it could void out the warranty of your car seat. any altercations or after market things you use to fasten in or attach to you child's car seat voids out the warranty. that means if the seat was faulty they will not pay any out of pocket and blame you for it failing.
Morgan Adams posted:
How could protecting the buckle possibly void the warranty? It would not be altering any part of the seat or even the seat belt, just adding a "cap" over the buckle so it can't be accidentally unbuckled.
Heather Fisk posted:
Not only that Misty, I'd be scared my kids would cut themselves on the half cut plastic. And who's to say they can't slide the cup up and unbuckle the belt anyway.
Misty DeGroff posted:
Any thing you put on your car seat even them toys that hang on the car seat or that Mighty thighty
(the thing that tightens the seat belt you fasten the car seat in with voids your warranty. read your user guide.)
They say that any after market thing you attach to your car seat and or seat belt can affect you car seat and it ability to protect your child. Not only that, them cups can be sharp and over time could cut or fray your seat belt.
Stephanie S. Leupold-Chastain posted:
You might want to read the thing about using the silicone cupcake liners, Misty.
Sharlene Whissell Koziej posted:
This seems like a great idea, we found our little ones seat undone one day, hopefully not undone to long though, kids like buttons and will work hard it figure them out. That's what happens when you unload the car, while you think your kids are safe. We try to be super moms but sometimes we need help too.
Going Greener posted:
Love this idea, it's great in so many ways!!
Angela Waagen posted:
I'm a firefighter, paramedic, and CPST
[Child Passenger Safety Technician]
. I'm also a mom to 3. This is a super idea! To all the
"what if"
ers - in an emergency we would just slide the cup up, tear it off, or cut the belt. If someone's worried about sharp edges on the plastic I'm sure some masking tape would remedy that. Thanks for helping spread tips on child safety!
---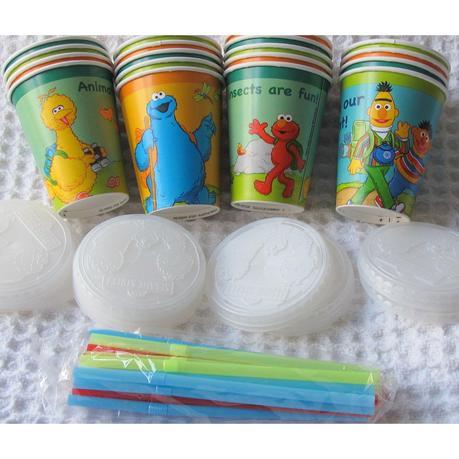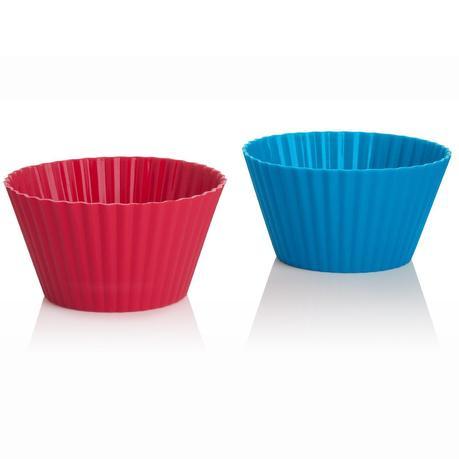 Shopping Suggestions:
• Solo Sesame Street Combo Pack
• Trudeau Silicone Muffin Cups
• Seat Belt Buckle Guard
• Angel Guard Car Seat Button Cover
• Buckle Guard Pro Seat Belt Cover
NOTE -
If any of the above links are not working or the freebies or coupons no longer available, please post a blog comment below and I'll edit it!
---
◊
Enjoying all the freebies? Want to keep up with the latest free stuff, deals, coupons, and other ways to save money? Subscribe to
Frugal Freebies'
email updates or RSS Feed
! - it's free!
◊
Check us out on Twitter, and join in the conversation of even more great freebies, deals and coupons on our
Frugal Freebies
fan page on Facebook and
Google+. We are even on Pinterest!
More Frugal Blogs and Websites:
◊
Born to Love: All your cloth diapering needs, and much more - naturally! We are strong advocates of the personal, social and environmental benefits of natural parenting.
◊
Frugal Baby Tips: Money-saving tips on diapering, diaper washing, safety, slings and baby carriers, toys, clothing, nursing, menstrual needs, traveling with kids, more!
◊
Jamberry Nails: The hottest trend in nail design. Get high-end nail art without the fuss of polish - or expensive salon visits! Like us on Facebook!
◊
Oshawa Journal: A Step Back in Time to the Village of Oshawa - historical family timelines, news clippings, birth/marriage/death/grave records, photos and stories of the people I am researching, as well as the history of streets and houses in the village of Oshawa.