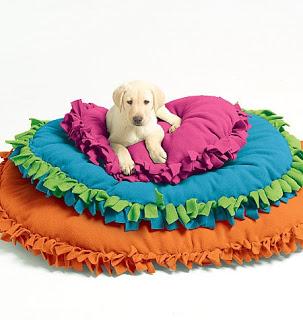 My dogs have several beds around the house, Denny uses both beds in the living room and the one in the bedroom.
Dexter would prefer to lay on a person - if he isn't laying on his bed on my computer desk
(He is a little dog, a bichon).
You can make this no-sew pet bed! 
This pet bed looks pretty simple to make and needs no sewing at all! Probably much cheaper than buying one, and you can wash it!
Making a fleece pet bed yourself allows you to fully customize the pet bed, and choose the cover, filling and style that suits you, and your dog or cat, best!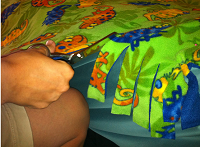 Plus, it makes a comfortable, water-repellent bed for your dog or cat, of any size.
Photo credit: Selbe B, on Flickr
Some rights reserved
You could buy the
McCalls pattern
, but it looks like all they did was:
1.
Cut out a couple of ovals from anti-pill polyester fleece, about 4-6 inches larger than the size you need.
(Anti-Pill is a treatment applied to garments primarily to resist the formation of little balls on the fabric's surface due to abrasion during wear.)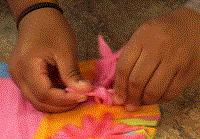 2.
Cut 4 or 6-inch long strips into the fleece all around the oval, about 1-inch wide.
3.
Tie together one strip of fleece on one oval to a strip of fleece on the second oval - using an over-hand knot. Some prefer to double-knot.
4.
Repeat all around the oval, leaving a space open to stuff.
5.
Stuff with Polyester Fiberfill, wool, cotton or even cedar shavings.
6.
Tie remaining fleece strips.
Photo credit: WVUMC, on Flickr
Some rights reserved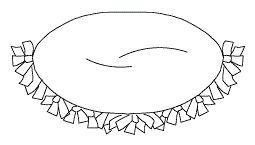 Yardage needed for each pet bed size:
Small: 26-inch diameter - 1 1/2 yards (1.40m) 60" wide (150 cm)
Medium: 36-inch diameter - 2 1/4 yards (2.10m) 60" wide (150 cm)
Large: 46-inch diameter - 2 /3/4 yards (2.55m) 60" wide (150 cm)
---
Shopping Suggestions:
• Fairfield Poly-Fil Premium Polyester Fiber
• Solid Dogs Anti-pill Fleece
• Cats Allover Anti-Pill Fleece by Wild Wings
• Petmate Polar Fleece Pet Blanket
• McCall's Patterns - Pet Beds
NOTE -
If any of the above links are not working or the freebies or coupons no longer available, please post a blog comment below and I'll edit it!
---
◊
Enjoying all the freebies? Want to keep up with the latest free stuff, deals, coupons, and other ways to save money? Subscribe to
Frugal Freebies'
email updates or RSS Feed
! - it's free!
◊
Check us out on Twitter, and join in the conversation of even more great freebies, deals and coupons on our
Frugal Freebies
fan page on Facebook and
Google+. We are even on Pinterest!
More Frugal Blogs and Websites:
◊
Born to Love: All your cloth diapering needs, and much more - naturally! We are strong advocates of the personal, social and environmental benefits of natural parenting.
◊
Frugal Baby Tips: Money-saving tips on diapering, diaper washing, safety, slings and baby carriers, toys, clothing, nursing, menstrual needs, traveling with kids, more!