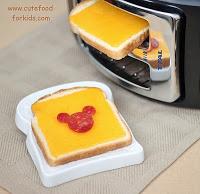 Turn Toaster Sideways to Make Grilled Cheese
They are suggesting turning your toaster sideways to make grilled cheese sandwiches.
Make sure the size of the cheese slice is smaller than the bread. For safety reasons!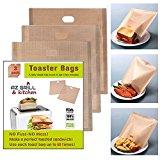 Toaster Bags, Reusable, Perfect for Grilled Cheese Sandwiches, Chicken, Nuggets, Panini, Garlic Toasts and More!
They say it works best with old and cheap toasters, not one of the newer models.
Would you try it?
Personally I think it would be safer to use
Toaster Bags
- make lunch or snacks for you and your family fast, and keep your kitchen appliances clean!
Read more...
Photo credit: CuteFoodForKids.com
All rights reserved
---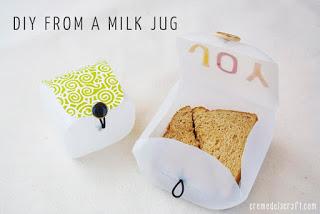 DIY: Lunchbox Container from a Milk Jug
Milk jug to lunch box, ideal for breakfast or snacks. .... Pretty recycling!
A milk jug makes a great lunch box, because not only is it food-safe, but it is the perfect size to keep your sandwiches from getting squished!
I am not so sure I would send my child to school with this, but it is definitely a unique idea!
Read more...
Photo credit: CremeDeLaCraft.com
All rights reserved
---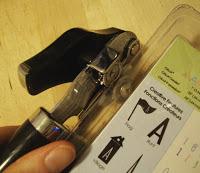 35 Lifechanging Ways To Use Everyday Objects
Which tip is new to you?
I really like the one about using a can opener to open sealed plastic packaging.
These handy little things are all things you probably own already.
Check out the simple ways to properly iron a shirt or clean a toilet!
Read more...
Photo credit: BuzzFeed.com
All rights reserved
---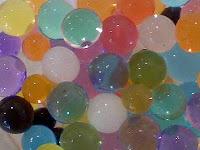 Make a Bouncing Polymer Ball
Do you think you could make a bouncy ball with borax, cornstarch, white glue?
If you try it, let us know if it works?
Read more...
Photo credit: © Anne Helmenstine
All rights reserved
---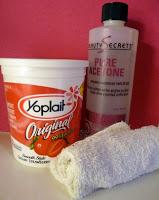 Remove Printing on Food Containers
Have you ever wanted to reuse a container, but wish you could take the printing and picture off? Well, now you can!
It's easy! You need pure acetone
(located in the beauty section near the finger nail polish removers)
, a rag, and a container.
In a dish pan, pour enough acetone on the rag to saturate it. (Make sure you are in a well ventilated area and are wearing gloves.) Then wrap the rag around the container and let it sit for 3-5 minutes. It may take longer depending on what brand container you are working on. Check the container by rubbing the paint. If it wipes off, you are good to go! Just keep wiping! It'll come right off. If it doesn't come of easily, keep soaking. You may need to re-saturate your rag.
Read more...
Photo credit: 2BusyBrunettes.com
All rights reserved
---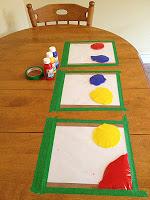 Mess-Free Finger Painting
Finger painting without the mess??
Squirt two primary colours into Ziplock freezer bags, put a white piece of paper underneath them, and tape down with painter's tape.
Make sure to get all of the extra air out of the bags before taping them down.
Read more...
Photo credit: HippieHousewife
All rights reserved
---
NOTE -
If any of the above links are not working or the freebies or coupons no longer available, please post a blog comment below and I'll edit it!
---
QUICK FREEBIE TIP:
Create a

Facebook

and

Twitter

account to get freebies, even if you only use it for that.
Click for more quick freebie tips
---