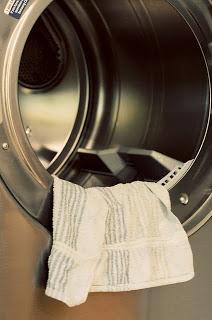 No More Dryer Sheets OR Fabric Softener
Soak a hand towel in fabric softener. Squeeze out any remaining drops from the towel.
Hang it over a towel bar
(or outside on a clothes line)
to dry.
Your house will smell
clean
for the three days while this towel is completely drying.
After the towel dries, you toss it in your dryer along with clothes - using it as a dryer sheet for 40-50 loads before soaking again.
Read more...
Photo credit: MatternFamily.com
All rights reserved
---
Kids Picnic Table Redo
Here is a smart idea!
Keep your eyes open at yard sales, or even in the garbage, for a kid's plastic picnic table.
Basically she just spray painted it, and used a staple gun to attached fabric, and then vinyl on top.
Read more...
Photo credit: Caroline-Frei
All rights reserved
---
NOTE -
If any of the above links are not working or the freebies or coupons no longer available, please post a blog comment below and I'll edit it!
---
QUICK FREEBIE TIP:
Often, when printing coupons, you can hit back and print it again. Or you can change the number of copies in the pop-up print menu to print more.
Click for more quick freebie tips
---