By Elizabeth Prata
I have never seen the Milky Way.
I am watching the History channel/Hulu show "Alone". It's involves 10 contestants who join the challenge to remain alone and surviving in the wilderness for up to 100 days. The production is extremely well done, from choosing the contestants, to the locations (Vancouver WA seasons 1-2 and Patagonia season 3). I'm unfamiliar with the show locations from season 4 to 6. I had heard that season 3 was outstanding so I started with that. I am completely absorbed in this quiet, interesting, educational, beautiful-on-the eyes show.
They show these beautifully photographed shots of the surroundings, from the jagged mountains, to snow dusted lowlands, to foggy lakes, to the many stars in the night sky, along with the Milky Way. I'd like to see that someday.
Speaking of the starry skies, something I set the alarm for and plan to try and see tomorrow morning at 5:05am is the Starlink satellites streaking across the sky. Starlink is a satellite constellation constructed by SpaceX to provide satellite Internet access. SpaceX is Elon Musk's company. The constellation will consist of thousands of mass-produced small satellites in low Earth orbit (LEO).  As of 13 June 2020, SpaceX has launched 540 Starlink satellites, according to Wikipedia. Apparently the march of satellites across the sky is quite beautiful, say the people who have already seen it. I am hoping for a cloudless morning tomorrow so I can see it too.
I am taking advantage of the cool day. If it is cool out, I bake. In the oven right now is a bunch of mini-quinoa bites and some roasting broccoli. I also need to do something with the eggplant rolling around in the back of the fridge, and the marked-down picked chicken. I will look up recipes for "eggplant and chicken." Why not?
Found one! Is it bad that I gravitate to recipes that have the word "Easy" in the title? Easy One-Pan Eggplant Chicken Dinner. I have all these ingredients. Should be good! I also have some frozen shrimp defrosting for quick meals. Dinners for the next few days will be shrimp and broccoli and a boiled potato and also the eggplant dish. Lunches, I have deli meat and gluten free sandwich bread, the quinoa bites and also salad makings. A pot of vegetable soup is in the fridge, for either lunches or dinners, depending on how hungry I am.
It's hard to eat all of a pineapple before it goes bad. I found a solution. Freeze some of it. When I want some, I take it out of the freezer, chip some off, and blend in the blender with either banana or strawberry for a smoothie. Add a bit of coconut milk if you like, or just the fruit itself if you like it really thick. Sometimes I eat it thick and add crushed almonds on top, and eat with a spoon.
I'm all set with my frugal meals for the week!
I have church tonight, we are going through Hebrews. I am in the middle of several really good books with some more on deck. (Rare Jewel of Christian Contentment by Jeremiah Burroughs, and Phyllis Schlafly: Sweetheart of the Silent Majority by Carol Felsenthal). With my church event tonight, my books, and the the Alone TV show, I am all set for some good times today.  I hope you have a good day also!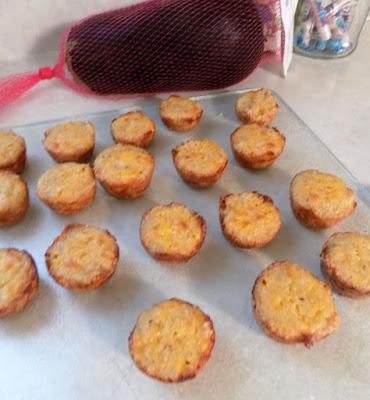 Cheesy Quinoa Bites cooling. Soon it will be your turn, eggplant, soon.
PS, yes those are Smarties in the mason jar. I bought two bags on severe markdown after Easter. When I want something sweet but not too calorific, I mix a tube of Smarties with some peanuts for a light snack.