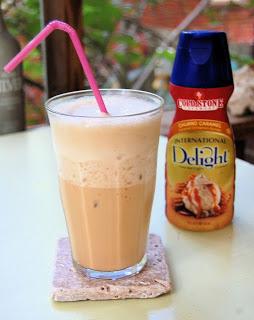 We are not sure about your house, but in ours it just is not summer without ice cream. Now you can even start the day with it! International Delight® and Cold Stone Creamery™ have teamed up to bring three new ice cream flavors to your morning routine: Hot for Cookie™, Founder's Favorite™ and Churro Caramel.
These new creamers are so tasty, you will be looking for new ways to sneak it into your meals all day long. Our new favorite afternoon indulgence is cinnamon caramel chai made with Cold Stone Creamery™ Churro Caramel creamer and blended to frozen perfection.
Frozen Churro Caramel Chai
1 cup boiling water
4 black tea bags (like Early Grey or English Breakfast)
3 tablespoons sugar
1/3 cup International Delight® Cold Stone Creamery™ Churro Caramel
2 cups ice cubes
Ground spices to taste (nutmeg, cardamom, ginger or even black pepper)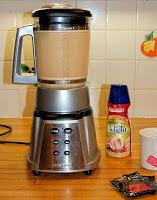 Prepare the tea by adding tea bags to the boiling water and allowing to steep for 4 minutes before removing the tea bag(s) from the cup. Add the sugar and stir to dissolve. Let the tea cool completely or overnight in the refrigerator.
To make the frozen chai, pour the tea to a blender and add the ID Churro Caramel creamer, ice cubes, and desired spices, and then blitz on high until the ice cubes are smooth and incorporated with the ID. Pour the frozen froth into a tall glass and don't forget the straw!
If you have any leftover (doubtful!), pour it into an ice cube tray and place in the freezer for your next batch. By using the flavored cubes, the chai will not be diluted by the melting ice making a smoother, richer treat.