Costa Coffee is known for their range of coffees, blended drinks, snacks and desserts. Went to their store in Indiranagar area of Bangalore / Bengaluru. The store is located behind the Apple store on the 12th Main Road. The store has both outdoor seating as well as indoor seating with comfortable chairs and sofas. Costa Coffee recently introduced the Frostino range of ice blended drinks which comes in 3 unique flavors of Key Lime Pie, Belgium Chocolate Cake and Red Velvet.
Read my reviews on other outlet in Indiranagar like California Pizza Kitchen, Glocal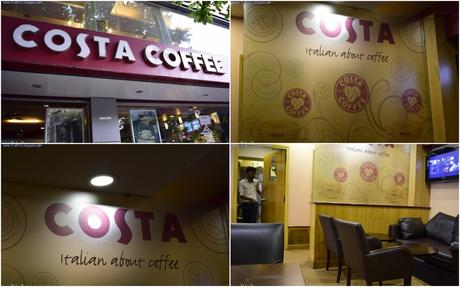 We tried the Red Velvet Frostino and the Belgium Chocolate Cake Frostino. The thick Red Velvet Frostino was blended with Red Velvet muffin and was topped with fresh cream. The taste was amazing and one shake is enough for an empty stomach. The Belgium Chocolate Cake Frostino had a blend of Belgium Chocolate Cake with ice and is topped fresh cream as well. The taste was a bit different than others.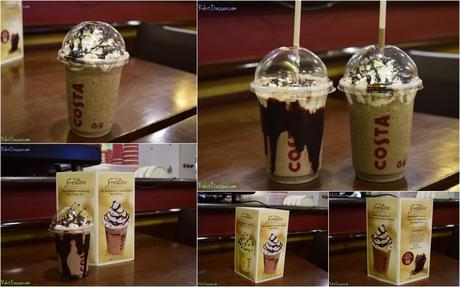 We tried the shakes with Exotic Mushroom Panini and Paneer Pocket. The Exotic Mushroom Panini was amazing in taste with zucchini, mushroom and cheese. The stuffing had a lot of Italian herbs and went well with the soft bread. Amazing and a must try! The Paneer Pocket on the other hand was stuffed with paneer pieces.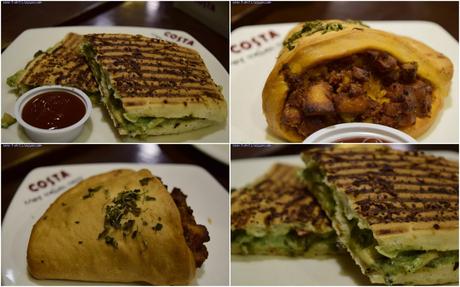 Costa Coffee – Scorecard –
Food/Taste – 8/10
Service/Hospitality – 7/10
Value for Money – 8/10
Ambiance – 7/10
Quantity/Quality – 8/10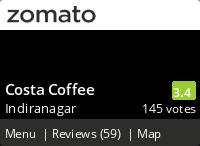 Overall Rating – 3.8/5
Do try 'Fronstino' and the amazing range of snacks from Costa Coffee !