Although the title of this post is definitely a Mr-Litlove-esque one, I am sorry to say that Mr Litlove has not done anything comical for several weeks and so this is about books.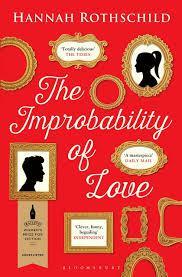 I'm wondering why my reading experiences have been so mixed lately – is it me or is it the books? I do think that audio books test a narrative severely and that something like
The Improbability of Love
by Hannah Rothschild, a 17-hour listening slog, might be a much more entertaining book if you could zip through it on the page. As it was, I felt that this novel probably had a very good idea lurking deep within it, but the narrative flourishes including scheming Nazis, lost masterpieces, alcoholic mothers, desperate heads of auction houses, many, many international multi-millionaires, overnight success, murders and a truly ludicrous ending diluted that idea beyond redemption. After a while I re-named it: The Improbability of the Plot.
The story wasn't helped by having a heroine who simply refused to become sympathetic despite having the entire catalog of woes thrown at her. Or rather, it was because every fashionable device for creating sympathy was deployed that she drifts beyond the reader's reach into boring incoherence. Annie is recently divorced and poor, living alone and lonely in London where she is hoping to earn a living as a cook. When the story begins she buys a dusty painting from a junk shop for a fledgling boyfriend – it's his birthday – but alas the cad stands her up and Annie spends the night sobbing, unaware that she's purchased a sleeper. The painting knows. The painting gets its own voice and its own chapters to tell us all about its fête galante fabulousness, daahling (I didn't mind these). Then Annie's alcoholic mother, Evie, comes stumbling back into her life and she thinks the picture might be worth something. Off they trot to the Wallace Collection where guide and amateur artist, Jessie, falls instantly in mad crazy love with Annie (it's properly mad – she spends most of the book discouraging him after an opening in which she is longing for love, so who knows why either of them sticks with it). Jessie does all he can to get the picture authenticated for her, while Annie doubts and loses patience and can't be bothered and oh all sorts of things that fail to whip up any interest in the reader.
Now I'm heading into big spoilers in this next paragraph so be warned. So, Annie goes to work for high class art dealers, Memling Winkleman (a 90-year-old in unbelievably good nick) and his put-upon daughter, Rebecca. The portrait of Rebecca is every bit as incoherent as that of Annie. Rebecca loves her father and yet is ground down by her father. When she discovers that he is not the sole Jewish survivor of a German family lost to the Holocaust, but a dirty Nazi who has funded their business with a huge stash of stolen art, she is so horrified by his lack of ethics, and so upset that the good name of the family will be tarnished, that she instantly puts out a hit on the art critic who has found Memling out, and then frames Annie for theft and murder. Wait, what?
There are good bits in this avalanche of narrative, and I was pretty much going along and enjoying it until about the halfway mark, when I began to lose the will to live. I think the art world is fascinating and I'd love to learn more about it, but this book is just too silly for words.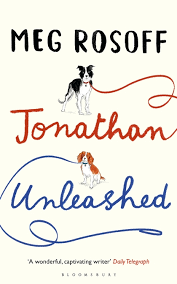 Moving swiftly on, then, to
Jonathan Unleashed
by Meg Rosoff. Now as books go, this one is a tricky little Munchkin.  If you hold it up to the light one way you get a very witty and amusing comedy about a man with hilariously clever dogs. If you hold it up to the light the other way you get a farcical take on depression and relationships and working in New York that is too crazy and all over the place for the big topics it's wielding. I think to Rosoff's credit, she is trying to pull off the very difficult trick of writing a book that is serious and funny at the same time. But again, the monster that is incoherence gets too good a grip on the middle section.
Jonathan Trefoil is a nice man but a lost one. He doesn't understand what's going on in his life, and he doesn't have much idea about what he wants, but in an ideal world he'd like to be a grown-up doing grown-up things, like earning a living and marrying a woman he loves. However, his job is in an ad agency that is so superficial and absurd that it's destroying him. And his girlfriend, Julie, is the organising sort who's agreed to a wedding because the bridal magazine she works for is putting together a special edition and paying for it to feature. To add to his life woes, Jonathan is living in a dodgy rental and dog-sitting for his brother who's working in Dubai. Although the previous sentences might lead you to think this is a book about Jonathan, it's really about the dogs, who upstage every single character in every single scene they appear in. Really, the dogs are completely hilarious and adorable. In fact, the dogs could pretty much do without half the plot and half the characters, too, and just sort of improvise across the narrative. And I say this as someone who isn't even into dogs.
So, Jonathan's inability to get a grip on his life is entirely at odds with the iron grasp that fate seems to have got on him. The result is a severe breakdown in which he loses his ability to speak in anything but nonsense language. Ha, ha… no, not quite funny enough, somehow. Believe me, I was totally convinced by Jonathan's character. I think he represents a fair slice of the male population. But you do long to give him a kick up the backside, and when it's perfectly plausible that two canines have more instinct and drive than the human who feeds them, something is out of balance in your narrative. It makes Jonathan's happy ending the implausible bit, because you don't feel he's had much agency in it.
What really redeems this book, however, is the brilliance of the writing. Meg Rosoff is SO funny. There's scarcely an un-witty line in the whole thing. It's like a masterclass in how to be funny in print, and how to use the absurd (so mishandled in most novels, cf The Improbability of Love) to its full effect. It's sort of a shame that all this wonderful inventiveness is used in the cause of an ordinary rom-com.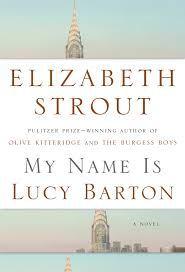 Okay, I have, as ever, bypassed my 1,000 word limit without reaching my final book. But I'm not sure what to say about Elizabeth Strout's novel,
My Name Is Lucy Barton
, other than it's wonderful. Spare, simple, direct storytelling that uses silence and the unsaid to devastating effect. Lucy is in hospital suffering from a strange, inexplicable infection after a routine appendicitis operation. While she is there her mother comes to visit her for five days. This is extraordinary – Lucy's family is dysfunctional, poor, violent, full of shame and unresolved bitterness. When Lucy married she left and has not seen a single member for years. But now her mother has come and as she sits, sleepless, by the side of Lucy's bed, they chat in an inconsequential way that thrills the once-neglected Lucy to the core. Her mother tells her stories of people from their home town but won't be drawn into anything more intimate, anything more telling. But Lucy's reaction, the patchwork of memories she gives the reader, her exquisitely rendered emotions at her mother's presence, indicates the wealth of drama that is being played out under this most unassuming facade. I loved it.
Advertisements