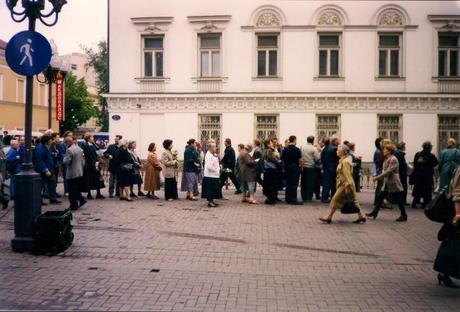 Waiting to pay respects to Bulat Okudzhava, Moscow, 1997
Sometimes, a line is more than just a line.
In the summer of 1997,  I spent several weeks in Moscow. During that time, Bulat Okudzhava, a Russian writer, poet, and songwriter, who wrote and sang songs that, among other things, satirized the Soviet system or beautifully described daily life in Russia, died in Paris. If the Soviet Union could be said to have ever had a beatnik moment, Okudzhava was part of it. His songs initially spread through people hearing and memorizing them or through magnitizdat (clandestine recordings).
His body was returned to Russia, where it lay in state in the Vakhtangov Theatre in Moscow's Arbat district. A friend of mine, also an American, was in Moscow. She had once met and played guitar with Okudzhava and wanted to go pay her respects but didn't want to go alone. Familiar with his music myself, I went along. We waited our turn, along with people who had brought flowers, were holding a photograph of Okudzhava, or waiting quietly. We chatted with the people near us and heard their stories about why they chose, like us, to spend a summer afternoon standing in a line.