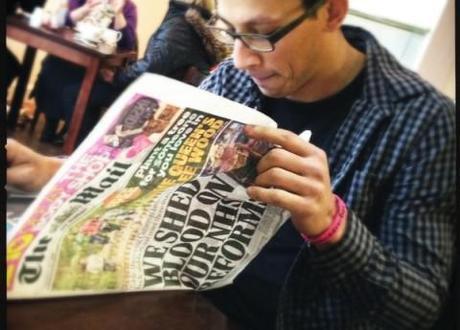 The Daily Mail is going ganbusters. Photo credit: Omar C, http://www.flickr.com/photos/omarc/6863827553/
Going Up
The Daily Mail: Britain's favorite weight-obsessed tabloid has become the leading online newspaper in the world, according to figures by the tracking service comScore. The Mail's Online's editor, Martin Clarke, puts it down to growth in US traffic, and says: "We just do news that people want to read." At a quite staggering 44.3 million per month, that's a scary lot of people wanting to read about benefits cheats and gypsy weddings.UPO (Until Proven Otherwise):  As in, I am wildly charismatic and great in bed, UPO.
Havelocks London: Because shoes say a lot about a man.  And there's a lot to say about a man in bespoke leopard print.
London Fashion Week Absenteeism: Where have all the bankers gone?  Hmm… try Somerset House.
Sartorial PJ's: Team a silk pair with heels for an effortless Spring/Summer 12 wardrobe update. Fashion victims and Brideshead Revisited aficionados, this nightwear trend does not extend to accessorising with your teddy bear.
Rockstar Offspring: Gracing almost every glossy magazine cover.  As if having a Rolling Stone for a dad wasn't cool enough.
Emelia Wickstead couture: Her Fashion Week front row would have made even the most seasoned designer green with envy.  Having the opportunity to steal secret glances at David Gandy was as big a highlight as the beautiful frocks.
Lemaresca Bags: The Oscars are coming up.  So, you know, I'm gonna need a sparkly clutch.
Going Down
Coconut Water: Good health never tasted this bad.
Summer Festival Commitment Phobia: High risk that cash spent now on tickets will be wasted thanks to (hoped for) invitations to stay on yachts and in Greek villa's come July.  I'm holding out for a last minute tout.
Extreme Job Interviewing: According to the book Are You Smart Enough to Work at Google? interview questions at the company can include brain teasers such as "You are shrunk to the height of a nickel and thrown in a blender. Your mass is reduced so that your density is the same as usual. The blades start moving in 60 seconds. What do you do?" And I thought "Where do you want to be in five years time?" was tough.
Valentines Day Markdowns: Because there is nothing sadder than a half-priced love heart.
Sarah Palin: New HBO film Game Change shows Palin, portrayed by Julianne Moore, ignorant of the Federal Reserve System, mistakenly believing Saddam Hussein ordered the 9/11 attacks and unaware that the prime minister, and not the Queen, ran the British government. The words 'dodged' and 'bullet' spring to mind.
Abstinence: Lent is almost upon us. Red wine, I'm going to miss you so much.