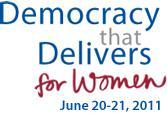 Editors' note: In anticipation of Democracy that Delivers for Women: An international conference on women's empowerment taking place June 20-21 this year, the CIPE Development Blog is reaching back into its archives for posts tagged 'women'.
An estimated 16 million South Africans lack an operating water supply at home, and have to walk an average of one kilometer to the nearest water source. Given the average South African household is five people, that's 3.2 million households. One household member, almost always a female, typically makes two trips daily – that's four kilometers walked a day. Give or take a busy day at the water source, it takes about an hour to make the trip. 6.4 million trips equals 12.8 million kilometers walked, and 6.4 million hours of fetching water – which is usually of suspect quality. You'll find similar situations for women across the developing world.
They're expected to bear the brunt of household work even in Bangladesh, where the Bangladesh Women's Chamber of Commerce and Industry (a CIPE Partner) grew from 24 founding members in 2001, to over 1,500 in 2008. As women in Bangladesh and elsewhere gain monetary wealth and economic power, they remain time-poor because of their dual roles in the home; and they remain politically poor because political systems have always and everywhere favored men over women. Women in the U.S. celebrate this week only the 88th anniversary of the 19th Amendment's Ratification, guaranteeing their right to vote.
In the history of political systems, that's a blink of an eye.
When democracies only have to account for less than half the population (in most countries women outnumber men), they only need to appeal to less than a quarter of voters. That doesn't sound very democratic, but for most of democracy's history around the world, that was reality; and today the world still suffers the consequences of such an illiberal practice – the lawfully silenced majority of people around the world, women.
The recent history of universal suffrage has produced more than enough evidence that as women go, prosperity goes. As this article from this week's Christian Science Monitor notes, the more knowledge, power, and freedom women have, the better off everyone in any economy becomes.
Universal suffrage has made great strides, but democratic institutions around the world still retain old biases; especially when it comes to education, healthcare, and property rights. In the words of one woman, Fannie Lou Hamer, we're not where we ought to be; we're not where we're going; but I'm sure glad we're not where we were.