I seem to have a problem with farmers' markets; I never really get round to going. First there was St Andrews (see here for further details), and now Edinburgh. Again, it took someone else asking me to go before I summoned up the energy to get up 'early' on a Saturday morning and haul my lazy behind into town.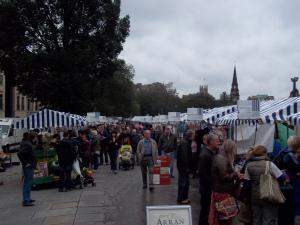 The Edinburgh Farmers' Market takes place against the stunning backdrop of the Castle, down on Castle Terrace and is there every Saturday (year round) from 9am until 2pm. For more information their website is here. Given this regularity I really don't have an excuse for not having been until now, but then again that's probably the reason I've never quite made it. Each week there is a variety of stalls selling everything from meat to veg, chocolate to sea food; some stalls are there on a monthly basis, others are there (almost) every week. For easy reference at a glance they have an online calendar, so you can know who should be there before you go.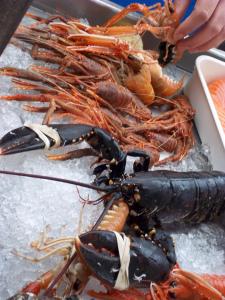 We started by wandering up and down, simply seeing what was on offer. My favourite stall at this sort of thing is always the 'sea food' people, simply because I love how their stalls look. There's something really appealing about the freshness, their bilateral symmetry, a twitch of an antennae or bound mandible. Perhaps that's just me. There's also the ensuing silent hilarity in the crowd when someone discovers they're still alive and there is a collective, internal response of 'well, yeah…' – this is especially true if it happens to be a five year old and the parent is then going to have to explain how to cook them…
Anyway, I digress. There seemed to be a lot of meat on sale on this particular weekend, everything from rabbit up to buffalo and it took a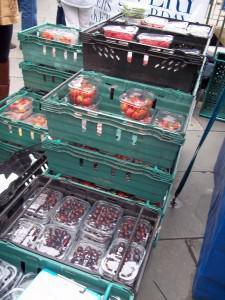 lot of resistance not to buy quite a lot. in the end we settled for a duck breast so that we could transform into a 'light lunch'. We thus decided that no more stalls sealing such items needed to be visited as we would only bankrupt ourselves (out of over-buying, I should say, not over-pricing). The hunt was then on for some potatoes and vegetables to complete the line up. Then we got distracted. There was a stall (Belhaven Fruit Farm, I think) selling soft fruits and even with a partially blocked olfactory system the smell was just too enticing. These fresh raspberries, strawberries and cherries (very reasonable at 3 for £5) was too good an opportunity and we rapidly came to the same conclusion that lunch could only be improved by the addition of cherries to the port sauce.
So this isn't too long I will skim over the rest (leave some surprises for when you visit) and just mention two more stalls. The first was actually not food related but for Spokes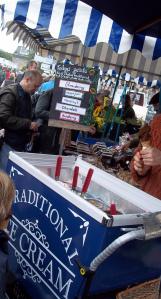 (Edinburgh's cycling campaign), and encouraging people to 'explore the city by bike'. We had a quick chat with them and got some very good little maps, but the people behind the stall didn't really fill me with much confidence for their campaign (not helped by the fact I'd never heard of them before). The other was much more up my street,
The Chocolate
Tree
. The Bruntsfield based business was there with a huge range of chocolates – the mint and dark chocolate that we tasted was certainly delicious – and even had their mobile ice cream stall (an old fashioned bike with a modern cool box on the back) with them. Despite the slight chill in the air and a definite lack of sun we decided to make this our last stop before heading away in order to have lunch in reverse and start with dessert…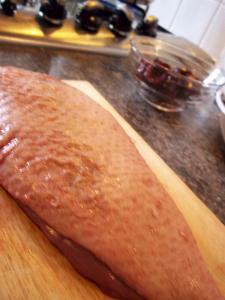 A quick wander through town (avoiding as many slow moving gaggles of tourists as humanly possible) took us back to my friend's house and about quarter past one we decided it was high time we made lunch. Slight changes to our plans throughout the morning meant we had a changed lunch slightly, but still our duck with a cherry, port and dark chocolate sauce, served with new potatoes and fresh carrots, was absolutely delicious. Coupled with a bottle of red wine it rendered us both stuffed and sleepy by the end, resulting in much of the afternoon revolving round the sofa and not moving very far. So much for a 'light lunch'.
As more and more people embrace the idea of eating local and seasonal produce farmers' markets are growing in popularity and popping up all over the place. Yes, our carrots were more expensive than a value bag would be in Tesco, but I can tell you they certainly taste a damn sight better as well. I do feel in many cases that there isn't a huge price difference in much of what is on offer and I would implore people to go down and at least have a look. Being there every week may be an excuse not to go, but once you've been once, it'll be hard not see its regularity as an opportunity. It was an excellent and enjoyable way to spend a Saturday morning – and that's before you even get to how good lunch tasted. 'From Source to City' could well be how many Saturday mornings will be spent in future.