stuartgrayuk:
Incredible resource here.

My heart goes out to those who are submerged within Mormonism. It truly subverts the hope found in the Bible. Yet these folks don't need to be rejected or accused.

They need to be loved and believed in.

They need the hope of the Jesus of the Bible held out to them. "Read the New Testament again as if you are a child." — Lynn K. Wilder

They need to opportunity to say yes to the truth!

In related news…my wife Janet is reading Unveiling Grace by Lynn K. Wilder right now…and is really benefitting from the experience!

http://www.amazon.co.uk/gp/aw/d/B00BW293DA?pc_redir=1403875750&robot_redir=1

Stuart

Originally posted on Mormonism Investigated UK: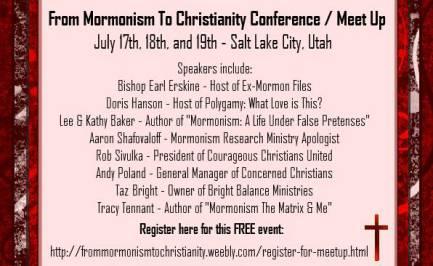 Recently in Salt Lake City (of course) there was a very interesting conference. I thought it may help those that are interested (and maybe unaware) of this conference to have all of the talks available in one place. So please find the youtube videos and audio's that you can download if you want below.
Some of the best people in the world (as far as I am concerned at least) on this subject are speaking here and it is so worth the time to listen. Some of the talks are not up yet and will be added as they become available.
For those if you in the UK that are Ex-Mormon or maybe just interested Christians. Would you like to see a conference like this in the UK? I really would, please get in touch and let me know if you feel the same way.
 Earl Erskine – Former Mormon…
View original 98 more words