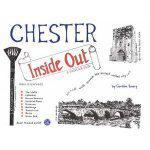 Chester Guide
The landing has been rather quiet of late as I have been away for a few days. On my travels, I spent a day in Chester for the first time in many years. Though I did remember some of the city's general features, my memory failed me on the detail. Therefore, I was delighted to discover an informative souvenir-walking guide at the railway station.
Chester Inside Out by Gordon Emery (1998) is as much of a pleasure to sit and read, as it is to use as a conventional guidebook.  The book abounds with maps, sketches, suggested walks (with detours) and snippets of Chester's long history. The landscape orientation of the book's page layout and its facsimile handwritten text owe a debt (acknowledged by the author) to Mark W Jones' A Walk Around the Snickleways of York (1983, 2010).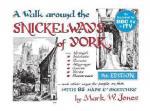 York Guide
The latter title is now on its 10th edition so the formula obviously works. This type of guide has plenty to offer and can be enjoyed in different ways. I have been sitting reading my Chester guide and traversing the streets in my mind's eye. Sadly, I have also been realising what we missed seeing on our short trip. An added bonus to walkers is the spiral binding on the book; a plastic rain cover would be perfect but you cannot have everything I suppose.
York and Chester have much in common, both being fine examples of walled cities with a history stretching back to the Roman occupation. Where Chester is unique however is in its galleried streets of shops known as The Rows whose origins lie in the 14th century. The guide-book tells us that the first shops were probably built as a result of a disastrous fire in 1278. I could have spent hours just wandering up and down and window shopping (see picture below, courtesy of Wikipedia).
The Rows have certainly changed over the centuries:
If you could make your way along the creaky boards from one shop to another you would have to dodge displays of goods on the floor, walls, and hanging from the rafters; while stalls on the outside of the galleries dimmed the light.
A view of some of Chester's Rows
The Chester guide is also handy if you want to go Blue Plaque spotting around the city as each one is marked on the walking route maps. At a reasonable £7.95 it was well worth the money and it will now nestle on a shelf next to my York Snickleways guide until called into service again. I wonder if anyone else has produced a similar style of city walking guide for other historic cities? I can feel a quest coming on (and a possible new collection).
If any readers have come across any such books I would love to hear (purely in the interests of research of course!)