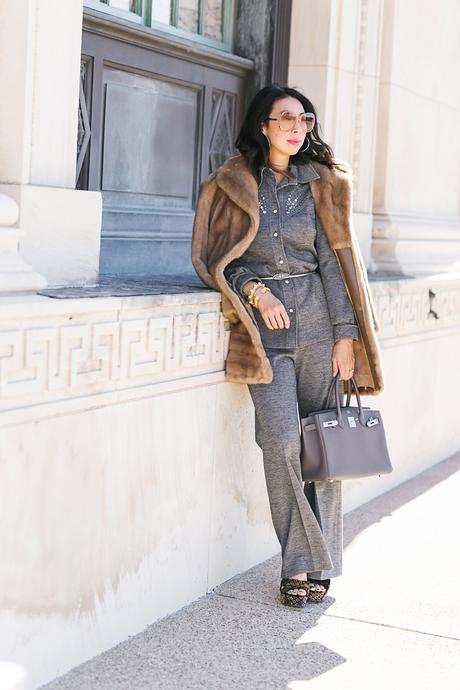 For those of you that just tuned in, From Grandma with Love is a twice-monthly series that is one of my faves! I'm lucky to be the recipient of my Grandmother-in-law's beautiful wardrobe. She owned so many unique pieces, and I've had the MOST FABULOUS time styling it on the blog. It's a win-win for me because I ADORE vintage and a fun excuse to wear it!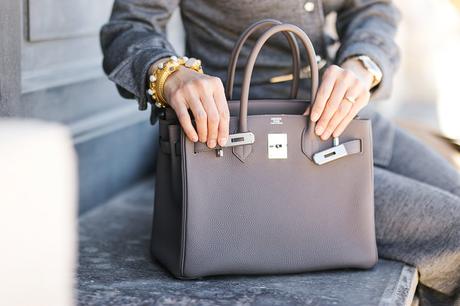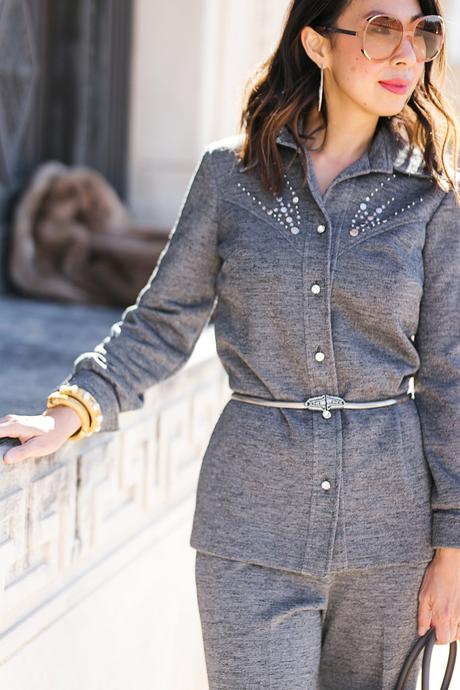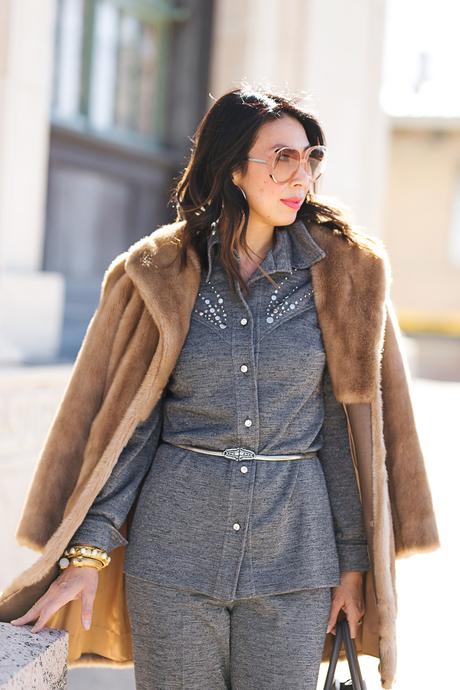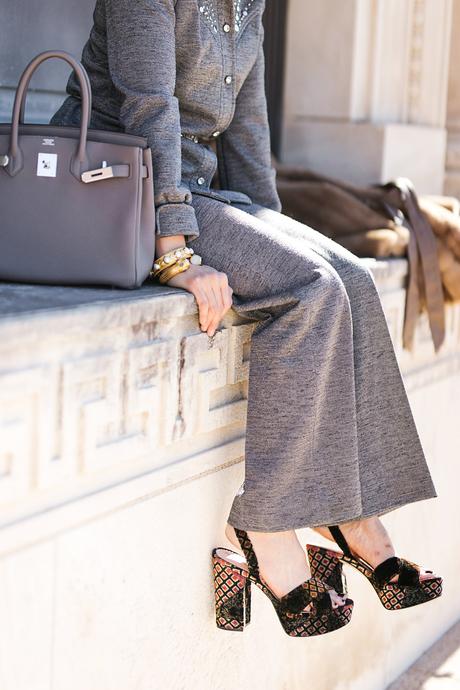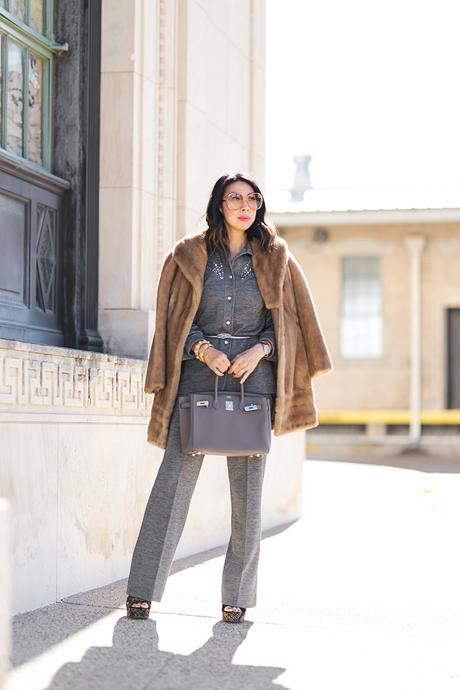 // Photography by Angie Garcia //
It's possible that being born in the 70s gave me an innate affinity for that style. I swoon at luxe fur coats, flare leg jeans, pantsuits, and platform heels. This embellished pant set has been waiting to make an entrance for a year now, and I want to wear this almost every day (when I'm not wearing a tiara and couture gown to sip coffee)! LOL!
It's labeled my "Elvis" outfit because of the rhinestone buttons and embellished yoke on the shirt. The metallic threads woven into the material make it such a fun matched set! Hello, 70s Style! Instead of tucking it in, I belted the longer top like a tunic.
Of course, I had to wear her faux fur coat and add a pair of platform heels! Brown and grey/denim/chambray are such a classic color combination and always looks fresh together. My inspiration for this outfit is actually from a Neiman Marcus catalog page. The model was wearing a Texas Tuxedo (full denim outfit) with a brown fur jacket thrown over the shoulders and oversized round sunglasses.
THE STYLE Rx: Take a cue from the past and go with a matched set for an uber quick AND stylish ensemble. No matching involved! Add some stylish accessories like hoop earrings for a fun, and top it with a teddy bear coat for a chic look.
Happy Friday Friends! Hope everyone had a great week! I'm off to Las Vegas for a Girls Trip. It actually snuck up on me. My friend is who WAY MORE organized than me planned this trip last year. I'm just tagging along and happy to hang out with my friends and to be able to visit my cousin while I'm there too. Mr. S was so sweet and urged me to go. He's at home hanging with the babes.

Thank you so much for stopping by and supporting SOS! I truly appreciate it! Rxoxo
JOIN THE #SAMFAM // SIGN UP FOR THE NEWSLETTER BY CLICKING HERE.
CHECK OUT MY INSTAGRAM SHOP HERE TO SHOP ALL OF MY INSTAGRAM LOOKS!