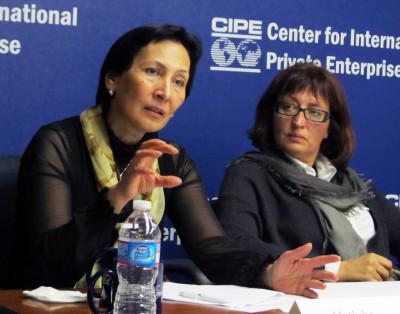 Matluba Uljabaeva and Valeria Klitsounova presenting at a CIPE-Eurasia Foundation roundtable in Washington D.C. Photo: Ariel Perkins/Eurasia Foundation
Navigating the intricacies of Eurasia's business climate is a daunting task. The recent global economic crisis casts an environment of economic uncertainty, especially for the region's small and medium enterprises (SMEs). Matluba Uljabaeva and Valeria Klitsounova, this year's Eurasia Foundation Bill Maynes Fellows, have proved to be great examples of how entrepreneurs can advocate for reform and overcome the odds.
Uljabaeva and Klitsounova have successfully started businesses and organizations in Belarus and Tajikistan. They have also advocated before legislative bodies with other SME owners and community organizers to improve the business climate there. Their stories provide a glimpse into successful efforts in bringing about change in Eurasia's challenging business environments.
Matluba Uljabaeva is the the Chairwoman of the National Association of Small and Medium Business of Tajikistan (NASMB), the current national leader for the promotion of small business development in Tajikistan. She has worked closely with the Government of Tajikistan, international development agencies, and regional business associations in promoting the interests of SMEs in the country. By working together, Matluba Uljabaeva and her partners were able to advocate for a significant reduction in tax rates in 2008 – a great victory for the SME community. Also, with the help of the Eurasia Foundation of Central Asia, Matluba helped establish the American Chamber of Commerce in Tajikistan, an organization that tirelessly continues to promote SMEs in the country.
Valeria Klitsounova is the Chairwoman of Country Escape: The Association for Rural and Ecotourism in Belarus. For nearly 15 years she has advocated for SMEs in Belarus by trying to develop agrotourism in the Belarusian countryside. In working with the rural SME owners, Dr. Klitsounova has helped to bring about sustainable long term economic solutions that have led to a countrywide phenomenon of growing village-run Bed & Breakfasts. Belarusian Bed & Breakfasts now attract thousands of tourists yearly, not only from Belarus but also from neighboring Russia, Poland and Lithuania. More importantly, her advocacy efforts were instrumental in passing national legislation simplifying the operating environment for small businesses in Belarus.
Looking at the economic climate around the world and the political situations in their own countries, Eurasia's SME owners may ask, what lies ahead? While many challenges still exist, the SME community through organized advocacy can lay the groundwork for overcoming them, even in countries where it does not seem possible at a first sight.