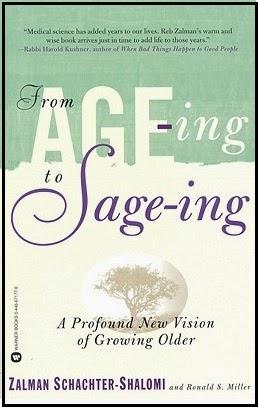 Published April 28, 1995.
A couple of people recommended this
From Age-ing to Sage-ing
 to me in the last few months. I finally caved and read it.
I love this book!  I plan on rereading it every year.
Rabbi Zalman Schachter-Shalomi
 redefines late life with the help of Ronald S. Miller.  They challenge the notion that late adulthood is limited to loss, decay and death. 
Instead, they describe the aging as the opportunity to review one's life, solidify a legacy, and mentor the rising generations. 
The origins of this book started in 1984 when Schachter-Shalomi went on a Vision Quest in order to overcome his depression about turning 60. 
He made a commitment to study elderhood so that he could celebrate it. In 1987 he founded the Spiritual Eldering Institute, now called the
Sage-ing Guild
.  Part of his work includes hosting workshops on how to embrace the third age as a time of growth and development.   He explains: 
"Throughout most of history, elders occupied honored roles in society as sages and seers, leaders and judges, guardians of the traditions, and instructors of the young. They were revered as gurus, shamans, wise old men and women who helped guide the social order and who initiated spiritual seekers into the mysteries of inner space." (p. 6)
Much of the book first half of the book suggests that elders participate in more
introspective tasks
such as meditation and journal writing. I am extremely extroverted, so I found these repeated calls for quiet time a little overstated. But I do recognize the benefits of self-validation.  I was more accepting of the calls for
social tasks
such as intergenerational work groups and mentoring relationships described in the second half of the book.  This fits my personality more. 
The book contains ten chapters, organized into three major sections: 
Part One: The Theory of Spiritual Eldering
Part Two: Spiritual Eldering and Personal Transformation
Part Three: Spiritual Eldering and Social Transformation
I was impressed by how much reading Schachter-Shalomi completed on this topic and how many people he interviewed about eldering.  His book not only describes his
own experience
, it also has ample
quotes
from great authors and
anecdotes
from older adults who have attended his workshops.
I usually read a book of this length in about four hours. However,
From Age-ing to Sage-ing
took me twice as long to read if not more. It's designed to provoke deep thought and intense self-scrutiny. I had to stop after every few pages and ponder for a time before picking up the book again.
Finally, I decided that I need to reread it frequently and more slowly. But I wanted to first write a review so that I can encourage others to read this powerful book.  So here it is: Read. This. Book.
No matter where you are in the life span, I wish you all the resources and opportunity required for happy eldering!
Related:
Plotkin Describes Life Stages 
Late Adulthood: A Time to Bless