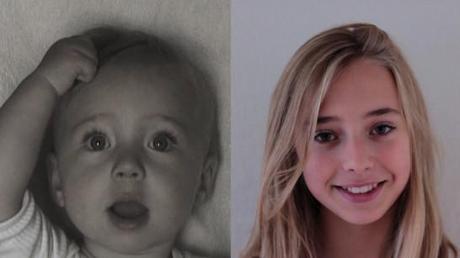 Image from http://i1.ytimg.com
A recent time-lapse titled "Portrait of Lotte: 0 to 14 years in 4 min"  by Masseo Messina shows the growing up of a Dutch girl, Lotte.
Part of a popular type of film, the video is known as a time-lapse for the compilation of daily photos to depict change, almost like a stop-motion film, but in a much shorter and to-the-point manner that requires only one picture per day with a simple webcam or camera.
With over 10 million views in less than a month, the video has become unusually popular, even for other time-lapse videos. Other versions range from depicting change in a finger injury, a woman experiencing abuse in the worst year of her life, and even a monumental video showing 41 years in 60 seconds.
Similar time-lapses have also been popular, though not to the same extent. A recently popular one depicts a Boston college professor of photography, Karl Baden, snapping a picture of himself every day from February 3rd, 1987 to November 3, 2011, a whopping 24 years reached worldwide fame.
So why were both of these videos particularly compelling?
While the Lotte and Baden video both intended to depict physical changes in aging, they do so in different but still fascinating ways.
Perhaps the Lotte time-lapse is popular for its almost realistic portrayal. With a moving mouth and changing facial position, the video gives the impression almost of talking to Lotte as she grows up. In contrast, Baden's mugshot-like photos are set in black and white and show minimal facial movement, though they also shows incredible aging. In short, his is a more intriguing portrayal of physical change in humans that distinguishes itself from most time-lapse videos as well as the Lotte video's near child-like sense of reality.
Nonetheless, time-lapse videos provide a short yet entertaining and even intriguing glimpse into rapid physical change.
Many of them are available on YouTube, including the Lotte and Baden video.