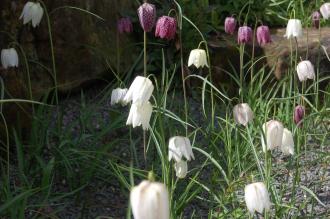 Fritillaria meleagris (23/04/2016, Kew Gardens, London)
Position: Full sun to partial shade
Flowering period: Late spring
Soil: Moist, well drained
Eventual Height: 30m
Eventual Spread: 5cm
Hardiness: 4b, 5a, 5b, 6a, 6b, 7a, 7b, 8a, 8b, 9a

Family: Liliaceae
Fritillaria meleagris is a deciduous bulbous perennial with an upright. Its grey/ green leaves are lanceolate with entire margins, up to 10cm long and 3mm across. Its purple chequered flowers are bell shaped, up to 3cm across and appear terminally in pairs or singularly. Its roots emerge form a button shaped bulb which is up to 2cm across.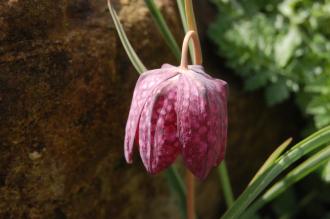 Fritillaria meleagris Flower (23/04/2016, Kew Gardens, London)
Fritillaria meleagris, commonly known as Snakes Head Fritillary, Fritillary, Chequer Lily or Chess Flower, is native to Europe to west Siberia. In its native habitat it grows in grassland in damp soils.
The etymological root of the binomial name Fritillaria is derived from the Latin fritillus 'a dice box' which refers to the markings on the flower of the Snake's Head Fritillary. Meleagris is named after Meleager of Calydon, a mythological Greek figure.
The landscape architect may find Fritillaria meleagris useful as an attractive spring flowering bulb suitable for naturalising in grass.
Ecologically, Fritillaria meleagris flowers are attractive to pollinating insects.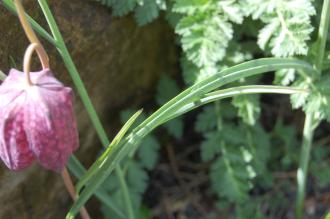 Fritillaria meleagris Leaf (23/04/2016, Kew Gardens, London)
The Royal Horticultural Society has given the variety Fritillaria meleagris their prestigious Award of Garden Merit in 2012.
Fritillaria meleagris prefers moist, fertile, well-drained soils. It tolerates most pH of soil. This bulb will not tolerate poorly drained soils.
Fritillaria meleagris requires little maintenance.


Landscape Architecture