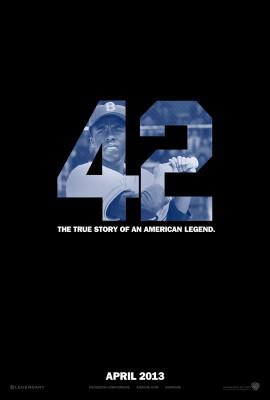 True Blood's Roman, Chris Meloni is to be in the new film "42." The first poster and trailer and trailer from the film have just been released.
In addition to Chris, the film stars, Harrison Ford, Chadwick Boseman, Ryan Merriman, Brad Beyer, Toby Huss and T.R. Knight. It's about the innovative Dodger's general manager Branch Rickey, (played by Ford), the MLB executive who first signed baseball great Jackie Robinson to the minors and then helped to bring him up to the show, and Boseman as Robinson, the heroic African American who was the first man to break the color line in the big leagues.
Chris is cast as Leo Derocher who played a noteworthy role in erasing baseball's color line. In the spring of 1947, he let it be known that he would not tolerate the dissent of those players on the team who opposed Jackie Robinson's joining the club, saying:
"I do not care if the guy is yellow or black, or if he has stripes like a fuckin' zebra. I'm the manager of this team, and I say he plays. What's more, I say he can make us all rich. And if any of you cannot use the money, I will see that you are all traded."
He greatly admired Robinson for his hustle and aggression, calling him "a Durocher with talent."
The film is scheduled to be in theaters in April, 2013.
source: comingsoon.net