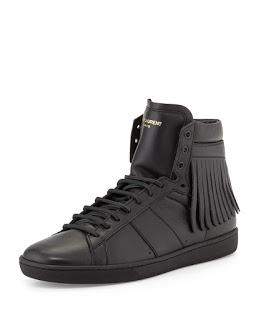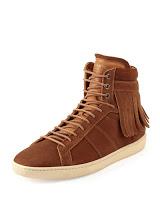 Saint Laurent High Top Fringe-Detail Sneaker
Adding a dash of 70's Bohemian could be considered very Saint Laurent. These High Top Fringe-Detail Sneakers for Fall nod to the house's Parisian Boho aesthetic while also playing up the the modern athletic high-top sneaker. The collar of the sneaker is trimmed with a cool long fringe detail that is the appropriate length to keep the overall design of the shoe svelt and clean. Add the square-cut leather laces and crisp off-white rubber sole to the premium upper and you now have another finisher besides the rocker Chelsea boots for your skinny crunchy tapered jeans for Fall. Available now in black leather, black suede and brown suede at BergdorfGoodman.com.
Category: Bergdorf Goodman, Leather High Top Sneakers, Men's Shoes, Men's Sneakers, Mens, Mens Fall/Winter 2015, Mens Footwear, Mens Style, Saint Laurent, Saint Laurent Paris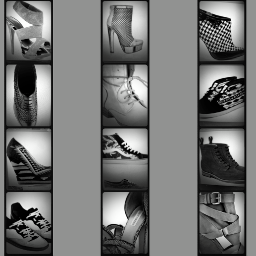 About SHOEOGRAPHY.COM:
Shoeography.com is a daily footwear blog highlighting what's new and what's hot in mens shoes, and women's fashion shoes!