I gotta be honest with you, NKOTB was more my sister's jam than my own.  Which is weird because I'm a HUGE boy band fan.  I can't even make up a weird excuse as to why I wasn't a fan except that I was 8 when the song came out and I wasn't nearly as big a fan of music as I am now.  Not even close.
However, it doesn't mean I can't give them props for doin' the damn thing in the late 90′s.  What's crazy is that they are still getting it done today in 2013, evident by the fact I'm going to The Package Tour next month, which they're headlining!
So, I'm dedicating this to the Boston Bruins, who came back from a 4-1 deficit in Game 7 on Monday night.  This included scoring 2 goals with the goalie pulled in the last 90 seconds.  Plus they won Game 1 vs. the Rangers last night.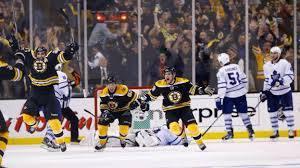 Happy Friday People.
Good Look Debo