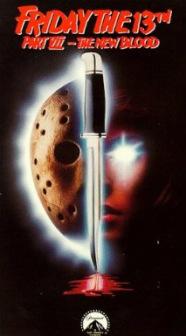 Director: John Carl Buechler
Writer: Daryl Haney, Manuel Fidello (Screenplay) Sean S Cunningham, Victor Miller (Characters)
Starring: Lar Park-Lincoln, Terry Kiser, Kevin Spirtas, Susan Jennifer Sullivan, Heidi Kozak, Kane Hodder, William Butler
Plot: Years after Tommy Jarvis chained him underwater at Camp Crystal Lake, Jason Voorhees returns to the camp grounds when he is accidentally released from his prison by a teenager with psychic powers.
There may be spoilers the rest of the review
Verdict: One of the Best Sequels
Story: Friday the 13th Part VII: The New Blood starts by remind us all about Jason Voorhess and what he has done along with reminding us he is waiting to come back. We meet Tina a girl whose parents are arguing and she uses her telekinetic powers to kill her father. Move forward and Tina (Park-Lincoln) is grown up but still trying to learn about her powers, this is where Dr Crews (Kiser) comes in.
still struggling with her powers Tina accidentally brings Jason back releasing him from the prison created in the last film. Tina continues to work on her ability where their neighbours are a group of young adults who are away for a weekend away for a party, who will be the victims to Jason this time around that is the question.
Friday the 13th Part VII: The New Blood brings us yet another installment of the slasher franchise but this time we have a new dimension to the story, we have telekinetic powers versus Jason which I have to say I liked. I think Jason could be the most vicious he has ever been too here. With these positives we need to look at a few negatives and that would be the generic supporting characters that really offer nothing but creative kills. An enjoyable addition to the franchise. (7/10)
Actor Review
Lar Park-Lincoln: Tina Shepard is the girl with troubles, she has telekinetic powers and as a child killed her father. She returns to the home where it happened to try and work on her ability where she only ends up bringing Jason back, she now has to use her abilities to finish Jason off. Lar does a good job in this leading role. (7/10)
Support Cast: Friday the 13th Part VII: The New Blood is filled with generic supporting characters that are only there to give Jason easy kills.
Director Review: John Carl Buechler – John gives us a good change in the franchise in a direction to make it very interesting. (7/10)
Horror: Friday the 13th Part VII: The New Blood has slasher elements through out with the most genuinely scary looking Jason. (9/10)
Settings: Friday the 13th Part VII: The New Blood keeps the action in and around Camp Crystal Lake which is all you want as a Friday the 13th Film. (8/10)
Suggestion: Friday the 13th Part VII: The New Blood is one for the slasher fans to watch and enjoy with this being the best of the later sequels. (Slasher Fans Watch)
Best Part: Jason vs Telekinetic Girl.
Worst Part: Lack of interesting supporting characters.
Kill Of The Film: Horn to the eye.
Believability: No (0/10)
Chances of Tears: No (0/10)
Chances of Sequel: Yes
Post Credits Scene: No
Oscar Chances: No
Box Office: $19 Million
Budget: $2.8 Million
Runtime: 1 Hour 28 Minutes
Tagline: Jason is back, but this time someone's waiting!
Trivia: During filming, the dressing room for Kane Hodder was a quarter of a mile down a dirt road. One night filming ended at at 2 a.m. and he was still in the Jason costume, and he decided to walk through the woods on a path to his dressing room. As he was walking someone approached him and asked if he was with the movie. He didn't reply, because he thought it was a pretty stupid question to ask, as he was standing there in full Jason costume. The man asked again, Kane took a little lunge for the guy and grunted. The guy took off, tripping and running. The next day director John Carl Buechler told Kane that the local sheriff was supposed to stop by, but he never showed.
Overall: The best sequel to the franchise
Rating