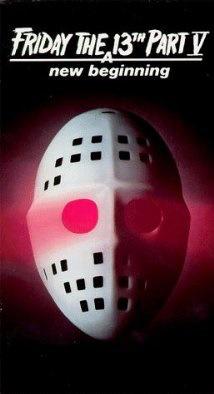 Director: Danny Steinmann
Writer: Martin Kitrosser, David Cohen, Danny Steinmann (Screenplay) Martin Kitrosser, David Cohen (Story)
Starring: John Shepherd, Miguel A Nunez Jr, Corey Parker, Carol Locatell, Shaver Ross, Marco St. John, Melanie Kinnaman, Richard Young
Plot: Still haunted by his past, Tommy Jarvis – who as a child killed Jason Voorhees – wonders if the serial killer is connected to a series of brutal murders occurring in and around the secluded halfway house where he now lives
There may be spoilers the rest of the review
Verdict: Friday the 13th Scooby Doo Edition
Story: Friday the 13th: A new Beginning jumps rights into the action with young Tommy (Feldman) returning to the grave of Jason Voorhees where two locals decide the dig up the grave to get a look at the man himself only for Jason to come back and kill them before setting his sights on Tommy himself. Dream sequence, sigh.
Tommy (Shepard) is now all grown up but on his way to a mental institute for young people with problems, the assistant director Pam (Kinnaman) welcomes Tommy along with Matt (Young) the director. The institute has your usual patients with their own problems which make them all different, but things take a turn for Tommy and the residents when somebody starts killing the residents, has Jason returned from the grave?
Friday the 13th: A new Beginning really is your typical sequel to the franchise, it brings back a character from the last outing, this time it is Tommy who believes Jason is still alive. We see how he is constantly paranoid nds up being true when a killer turns up. The problem most people will have is that the killer isn't Jason it is someone dressed up as Jason, yay just what we needed. As a slasher this is solid but with the final twist loses the film respect. (/10)
Actor Review
John Shepherd: Tommy Jarvis still haunted by his past he has been going from mental home to mental home but he is finally on the verge of getting released by staying in this half way house is to help him deal with everyday life. When somebody starts killing people his nightmares of Jason returning could be coming true again. John does a basic job without excelling. (5/10)
Melanie Kinnaman: Pam is the assistant director at the mental institute who has to make everyone welcome when they join. Melanie does a solid job but doesn't get enough screen time. (6/10)
Support Cast: Friday the 13th: A new Beginning has a basic supporting cast that are all very generic to what you would expect to see in a mental home.
Director Review: Danny Steinmann – Danny gives us a basic slasher which works well enough for all slasher fans. (6/10)
Horror: Friday the 13th: A new Beginning has good slasher horror elements throughout without shining. (7/10)
Mystery: Friday the 13th: A new Beginning tries to create a mystery about who is doing the killings. (5/10)
Thriller: Friday the 13th: A new Beginning does try to bring you to the edge of your seat through the film but you don't care about the characters enough. (5/10)
Settings: Friday the 13th: A new Beginning takes the action away from Crystal Lake but does seem to make it all in one place for isolation. (7/10)
Suggestion: Friday the 13th: A new Beginning is one for all the slasher fans to enjoy, if you don't like a slasher this won't convince you to like them. (Slasher Fans Only)
Best Part: Violet's dances movie so funny.
Worst Part: Not using Jason.
Kill Of The Film: Idiot neighbor boy.
Believability: No (0/10)
Chances of Tears: No (0/10)
Chances of Sequel: Has many more sequels
Post Credits Scene: No
Oscar Chances: No
Box Office: $21.3 Million
Budget: $2 Million
Runtime: 1 Hour 32 Minutes
Tagline: The mindless, murderous fury that was buried with Jason has ben reborn and suddenly, terror has become child's play!
Overall: Basic slasher with a failed twist in the story telling.
Rating