Brands are having some major sales and you have asked for my picks from my favorite retailers. I want you to keep in mind that what is going on in the world won't be over in 30 days, no matter what some politicians are saying. Please shop while keeping that in mind. Please also continue to let me know which brands are treating their employees well through this time and which ones are not, I want to highlight those that are supportive so they can continue to pay their staff and remain solvent. Because I don't believe this will end in the next couple of weeks, I am focusing my picks on items that can be worn as we all stay at home to flatten the curve. If it's chilling on the couch, sitting at your dining table which has become your home office, letting off some steam with a workout app, or staying on your property and planting seeds for a summer crop, the selections below are for you!
Madewell: $75 Jeans and 30% off Sale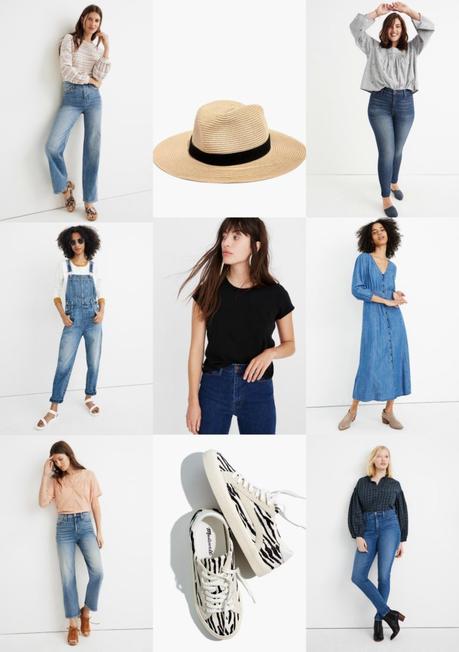 Madewell rarely has sales so this is a fantastic time to stock up or try this brand you've seen others rave about. Not only does Madewell have jeans on sale for $75 right now, they also have an additional 30% off sale merchandise. Use Madewell promo code SWEETDEAL.
The most popular Madewell jean per your feedback is the 10″ skinny jean. I am not linking to a specific link but this link for high-rise skinny which has a bit of 11″ in there because Madewell has a separate sku for each wash and whether the jean is button or zipper fly. I've tried this jean and it does fit great, it's stretchy and doesn't stretch out. However, I am in the minority for finding it did no favors to my bum.
Looking for soft, comfy tees that don't look schlubby? This one from Madewell has select colors on sale for $12.99 and then 30% off that and it gets rave reviews and comes in a bunch of colors and is available up to size 3X and writing all this seriously makes me want to place an order and get a couple.
We were discussing overalls in the WO2 Community and these Madewell overalls were recommended for being a relaxed fit and looking great.
I own this packable hat and love it for everything from working in the garden to working on my laptop on the back deck to days at the pool or beach. The price is pretty fantastic (it's on sale and then 30% off that sale price!).
Soma: Buy Two Get One Free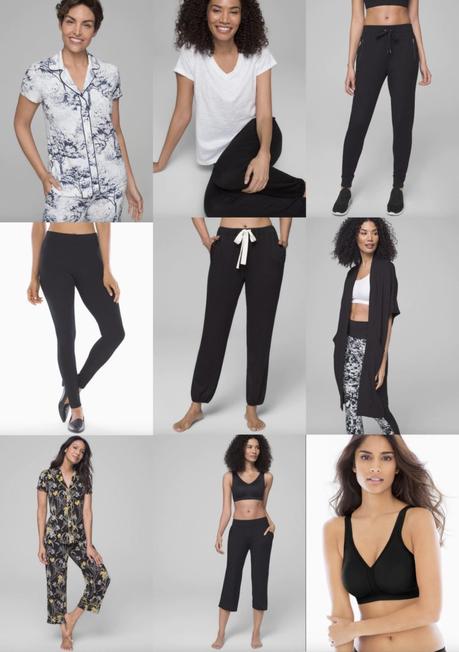 Soma has buy two, get one free on sleep, bras, and lounge and I've been in Soma a major part of the past month. Soma is high quality, from their bras to their joggers. Washing instructions are simple, most of their loungewear and sleepwear comes with pockets, and they focus on great fabrics. As I type this I am wearing their joggers, this wrap, and this t-shirt with my silver Birkenstocks and I wore this same exact outfit a few days ago as well.
The jacket-like thing is awesome, it's made of the softest sweatshirt material, you know the kind that feels all cloud-like on the inside. It has two pockets that are deep and secure and can fit my iPhone Max no problem. It washes well and is generously sized.
And the slub tee, I own a few of these from Soma with various necklines, sleeve lengths, and colors. They look like the cool well-worn threadbare tees, are soft, but are surprisingly opaque.
I also love their Sunday Pants; they are a soft jersey with a stretchy drawstring waist and the elastic at the hem is enough to keep them in place but do not constrict at all (and I have solid ankles and shins).
Their Essential Leggings are a fave, especially for those days where you go from desk to couch to maybe a quick nap in bed and back to desk. They are thin yet completely opaque, stretchy without stretching out, super soft but don't gather lint and pet hair, and are my favorite leggings when I want to wear a pair under a dress. I love that they come in three inseams. They are also generously sized; my Large pairs are worn more often these days but my Medium pair is what I wear under dresses for a more streamlined effect.
Their Cool Nights sleepwear is my FAVE. I love how it's silky but you don't slide off the bed and you don't feel hot and sticky. They wash like a dream, fit great, have pockets, and the prettiest prints! I'm loving this tree print, and I have this black and white print with yellow and it's so cheery. I love their cropped pants and Bermuda shorts for sleeping as I like something to keep my legs separate but I don't always want my legs completely covered.
If you're looking for a comfortable way to have some support without having to wear your traditional underwire bras, Soma has the two best I've tried on the market. For up to maybe a D or perky DD, their Enbliss bralette is amazing. It looks like a sports bra, it's uber comfy, it molds to your body, and offers a nice amount of comfortable lift and separation. For those of us with larger busts, I swear by this wireless bra and wear it almost every day. You can read my initial review of this comfort bra for large busts.
Bare Necessities: 25% off, Free Shipping and Returns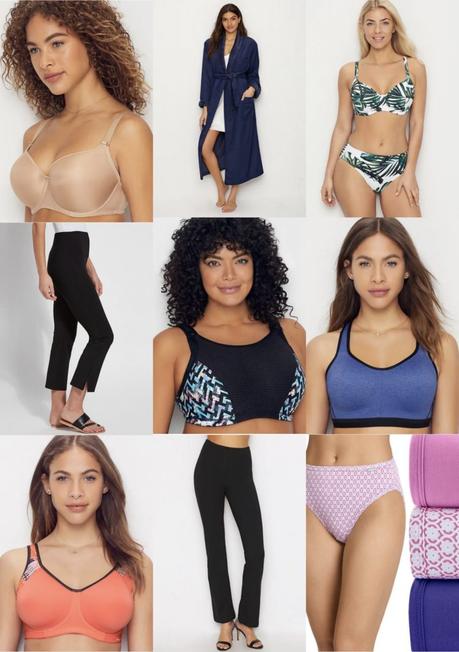 Bare Necessities has their Friends & Family promotion going on; with promo code FF2020 you get 25% off your order plus free shipping and returns. Per my recent review of sports bras for large busts, you know I am a fan of this retailer. I love their extensive size and color range, and the really detailed customer reviews to help me tailor my purchases.
The Freya "Sonic" sports bra is the one I've been wearing the most lately and right now select colors are on sale for less than $30 at Bare Necessities. This is a great bra if you desire lift and separation with your sports bra; I like to clip in the back as a racerback for extra support. This bra is so comfortable it would also be a great work from home bra.
Another sports bra I like is this one from Wacoal. It looks like a standard sports bra yet has the support for larger busts. I've had this bra for a while and it has held up beautifully.
If you want a bra to really contain a large bust during high impact activities yet want separation and shape definition, this sports bra from Glamorise is a great choice; you can read my review in this post.
The Fantasie Smoothing T-Shirt bra has been my standard bra go-to for over a decade. I've changed sizes over the years, but I still find this bra gives me great lift, support, separation, and is virtually invisible even under thin light-colored knits. I always have at least one beige and one black one in my drawer at all times. I like that the straps are relatively simple so I don't feel as exposed if I wear my black one with a black thin-strapped top or dress and like the front is low enough that it won't pop out of a scoop neck or a drapey cami.
If you're looking for swimwear for a bust, Fantasie is a great brand and I have suits from the brand that are years old and still look and fit great. I have this bikini top and high-waist bottom in a similar print from a different year and love it. If a tankini top is more your thing, they have one in the same print. And look, they have a matching coverup!
If you're looking for a new robe, this one is just like the luxe ones they have at fancy spas and hotels. It comes in five colors and if in doubt, size down.
When I did a survey of the best plus size intimates, one of the top choices for plus size underwear was the Jockey Elance brief. These are available in sizes 5-10 (M-4X) and I'm thinking of getting a pack during this sale!
For those looking for high-quality yet comfy leggings, ponte pants, and jeggings I think Lysee is a great choice. Some have control features, some are made for working out, many would work just fine in the office as well as your home office. I think these kick flare ponte pants are great for now at home, and will look smart in the future with a pair of flats or low-profile sneakers. If you're looking for a pair of ponte bootcut pants, these are a nice option.
Talbots: 30% Off PLUS 20% Off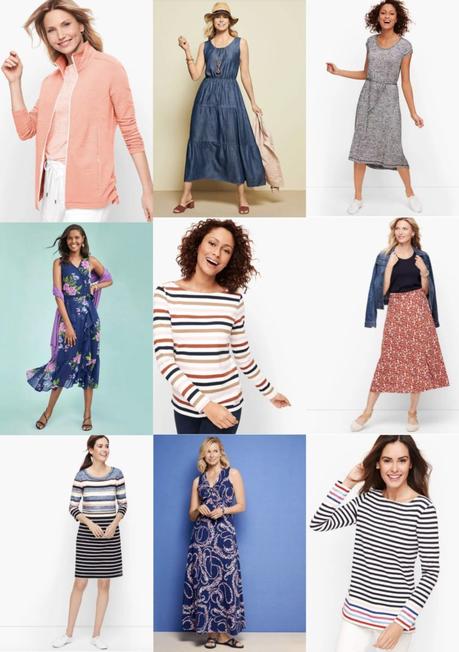 Yep, you get 30% off everything and then Talbots is giving you an extra 20% off that! This is for Classic Rewards members but it's free to join and it's not like one of those store programs where they text and email you so much they drive you bonkers. I am a Classic Rewards member and Talbots is one of the few retailers I haven't been annoyed with during this time with email overkill.
I've been rocking my striped tees during this time; it's easy but it's not boring and I feel more polished in them, even if styled with knit joggers. I love the color stripes just at the hem of this Breton top, the tie detail on this soft striped knit, and adore the color combo of this classic striped knit.
Comfy but stylish dresses are a great way to get through now and once the summer hits. I really like this machine washable and tumble dryable Tencel chambray dress which would look so good dressed up with a wide belt or even a white linen shirt tied over it. This machine wash and dry navy printed jersey maxi is as comfy as a nightgown but far chicer. If you're looking to dress up at home for Easter or just have a pretty dress to reach for, this chiffon overlay dress is elegant, classic, and can go in the washer and dryer. This striped t-shirt dress with bracelet sleeves is a comfy, chic, and easy care option. And this jersey dress with a soft waist and flattering neckline (also machine wash and dry) is great for now, but can look fab for the weekend with a pair of trendy sneakers and a denim jacket!
This midi skirt is great for being comfy now, looking chic with a graphic tee with or without a denim jacket or cardigan, with a simple tank or scoop tee, and much more. It's machine washable, line dry.
Other Great Sales Happening Now
Many other retailers also have great sales going down this weekend and into next week:
As always, share any sales you've found and any purchase wins in the comments to help others!