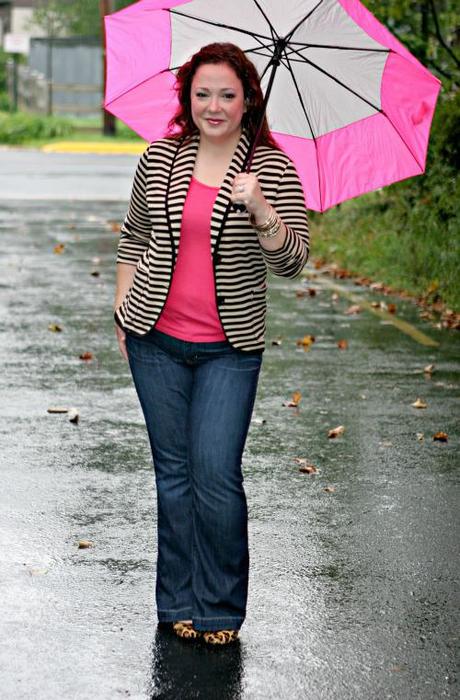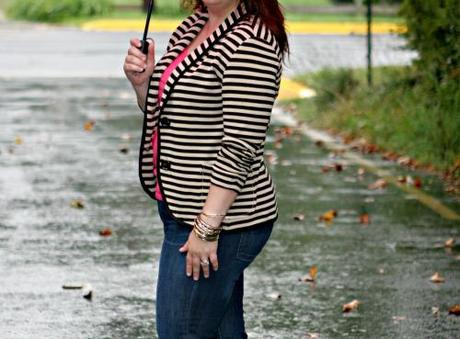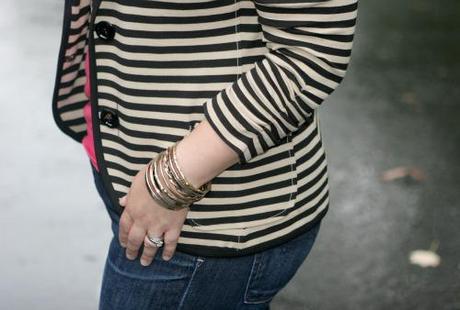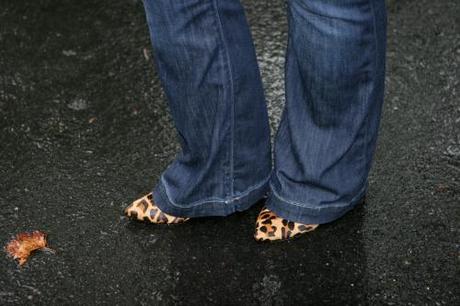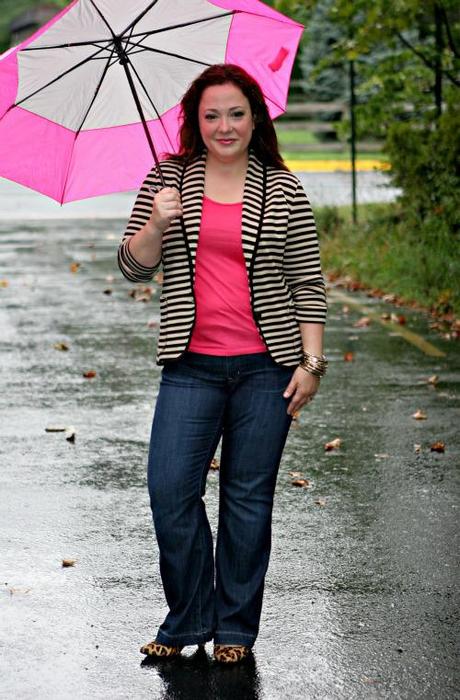 Tee - Ann Taylor
Blazer - c/o Karen Kane
Jeans - Gap
Shoes - Halogen
(similar)
Bracelets - Nordstrom, Ann Taylor, Lauren Ralph Lauren, c/o Soft Surroundings
Umbrella -
Gap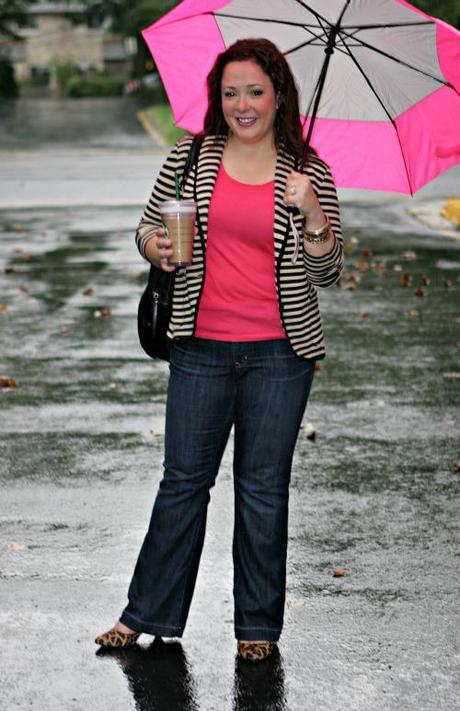 How I felt before I composed myself - don't cry Alison, no use in crying over spilled coffee!
I put this outfit together this past weekend, excited for Casual Friday when I could wear my jeans. When
Karen Kane
sent me
this blazer
, I immediately fell in love. I put it on right away, while wearing denim cutoffs and this tee and I loved the whole combination of textures and colors.
This jacket
is near perfection for me - stripes, stretch, and pockets? The perfect combo! I also love the cool details - the piping around the collar and hem, the ruched sleeves, the bold buttons. While I dressed it down today, it would look fantastic as a suit with black trousers, or mixed with another pattern
(I see it with a leopard-print ruffled or bow-collar blouse!)
. Knit blazers free of lining are a curvy girl's best friend because they fit and flatter without adding bulk. Expect to see
this jacket
quite often on the blog!
So anyway, when I woke up to rain, rain, and more rain I got the blues. How can I wear my haircalf flats? My hair is going to be a bird's nest! Pictures with an umbrella always end up tinted strangely!  Not only raining, but hot and humid - I am going to be a shiny, sweaty mess. I decided to drive today, because for some reason the DC Metro is even more of a mess on a rainy day. Got my car from street parking, drove into the court and there was a cup of coffee from yesterday not completely in the cupholder which fell out and spilled all over the passenger seat. So I'm trying to clean up quickly with paper napkins from the glove box, they're shredding everywhere, I'm outside the car getting rained on, sweating from the humidity, and I just wish I saved this outfit for a cool, sunny day. Oh well, I just will have to repeat it!
Any fun weekend plans? We have NONE and I am SO excited! I can do laundry, clean the house, organize a bit of my life, snuggle on the couch with Emerson and my husband, cook complicated dinners and go for walks. It seems that the past month has been so jam-packed, it's exciting to have a responsibility-free weekend!
Follow Me | Twitter | Facebook