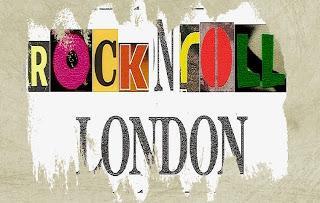 Friday is Rock'n'Roll London Day! Join the Rock'n'Roll London walk this (and every Friday) afternoon at 2:00p.m meeting at Tottenham Court Road Station



Adam writes…

We're going Stones-mad here on The Daily Constitutional in the run-up to our new Rolling Stones tour. Last week in this slot I blogged about the first Rolling Stones album. Today I'm taking a critical look at their first single, a cover of Chuck Berry's Come On from 1963…
Come On


Words & Music: Chuck Berry

Recorded: June 1963

Released: July 1963

UK Chart Debut: 1 August 1963 (charted at no.32)

UK Chart: No. 21

US Chart: Did not chart

Producer: Andrew Loog OIdham

UK Label: Decca

UK Cat No: F11675


The case is often made for Come On being both the least of all the Chuck Berry numbers covered by the British bands of the beat boom, and the slightest number in the early Rolling Stones canon.
Berry's original lacks his usual pace and drive, opting for a con brio approach ill-at-odds with the pissed-off lyric – the last verse of which gives up in a welter of inelegant moon-in-June rhymes so atypical of the man dubbed the first poet of rock.


Here's Berry's original…


The 21st Century Stones chose to omit their version of the song from their 40th Anniversary collection 40 Licks, quite a snub considering this was the record that set the Stones rolling. But within its brief one minute and 48 seconds we can find all the seeds of the Stones' greatness.


I am here to plead its case.




Here's the Stones version…


As a debut single, it is pure Rolling Stones – the antithesis of the soppy sentiments that filled the upper reaches of the charts on the week in which it tiptoed in at number 32. Consider Tony Hatch's Sweets for my Sweet in the hands of The Searchers on its way to number one while Mitch Murray's I Like It by Gerry and the Pacemakers was just beginning its descent from the top spot.   Come On is a grumpy record, full of broken down cars, wrong numbers and lost jobs. The narrative tells of the hoops through which our protagonist must jump to keep his relationship going. In this, it is a blues, albeit a modern, urban, upwardly mobile blues. The consumer durables such as cars and telephones that serve as the song's plot devices, and the total absence of redemption in the number distance it from the sentiments of a more traditional blues. But on the UK chart of the 1st August 1963, it was as close to the genuine article as was available to the British record buying public.
Jagger, for the most part, inhabits the vocal vividly – no mean feat for a 20-year-old LSE student from Kent, given that its sentiments spring so strongly from black America. 
In the number at hand, Berry's jalopy has broken down, and, being broke himself, he can't pay to have it fixed. His wish, that someone would just come along and smash the old banger up, is practically un-American. You wouldn't, for example, catch middle class white boys such as Brian Wilson and Mike Love of The Beach Boys cussin' that symbol of American affluence, the car. (When, in 1964, after being released from a five year stretch in prison, Berry turned to the automobile once more in No Particular Place to Go, he still can't keep a straight face: in verse one the car is a status symbol; by the fade out, it is a farce on wheels when his girl gets trapped by her safety belt.)
It's only on the final verse of Come On, where Berry's uncharacteristically weak lyric offers no support, that Jagger begins to flail a little, resorting to a slightly swung pop approach to replace Berry's more successful, pedantic, one-note delivery. The other factor working against Jagger has been a key change to cover the lack of guitar break. This only succeeds in brightening the mood, the last thing the song needs. (It also puts Keith's unlikely Graham Nash act on falsetto BV's a little out of his range.) All is redeemed, however, by the pleading, bluesy coda, in which Jagger returns to his best Dartford, Mississippi tones and a fourth, minor chord is added to the sequence, the whole underpinned by Brian Jones's disillusioned harmonica.
It is Jones – an effortless multi-instrumentalist – who provides the record with its signature instrument in his harmonica. In this cover, the harp is doing the work that a brass section undertook in the original – trying to inject energy into the proceedings. Here, it also lets off the tension on the bad tempered fourth line of every chorus with a wailing phrase akin to a train whistle. This evocation of wide-open space implies the protagonist will not be putting up with the current situation for very much longer.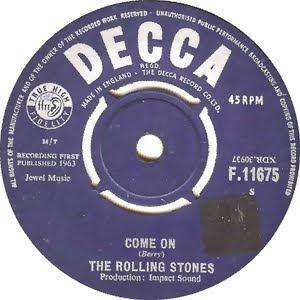 That Come On had not yet had a UK release would have added to its muso kudos for the Stones, as well as having the benefit of being a "new" song to British record buyers. Keith Richards (who, in a very 50s touch, had been persuaded by manager Andrew Loog Oldham to drop the "s" from the end of his name to have a showbiz resonance with Cliff) later described the number as "middle ground" in terms of being both bluesy and having pop chart potential.
Berry himself, a top ten act in the US, had only charted significantly on two occasions in the UK at this point, with the rock'n'roll classics School Day in 1957 and Sweet Little Sixteen in 1958. But his other numbers were out of bounds thanks to their familiarity from the movies Rock! Rock! Rock! (1956) in which he performed You Can't Catch Me and 1959's Go, Johnny, Go! which featured Johnny B. Goode, Memphis Tennessee and Little Queenie.
Perhaps most crucially representative of all for early period Stones, the number was not written by the band. They were slavish in their adherence to blues material. Come On's B-side is not a cynical rehash with the band's name stuck-on to mop up writing royalties, but rather a sincere rendition of Willie Dixon's I Want to be Loved… 
When they finally did turn to their own composition, it was Jagger and Richards and not founder member and self-styled leader Brian Jones who emerged as the hitsmiths. This power shift that saw the gradual alienation of Jones began in 1964 with the composition of the distinctly un-Stonesy As Tears Go By (a number 9 hit for Marianne Faithfull almost a year after Come On's chart debut)…
Of the Stones debut disc, only its chart position was inauspicious. In the current climate, the band may well have been dropped. Andrew Loog Oldham later claimed to have bought the single on to the charts himself. Within three singles, however, the Stones joined The Beatles in almost having the top spot as a guarantee with each release. But it wasn't until 1966, with the release of the first all self-penned album Aftermath that the Rolling Stones abandoned Chuck Berry. The band went on to cut a Berry number on each of their first three albums, as well as Bye Bye Johnny (the "sequel" to Johnny B. Goode) on the Rolling Stones E.P of 1964. And on each occasion they serve him very well. In turn, they, along with The Beatles and others in what the Americans called the British Invasion revived interest in Berry's career – a much needed fillip following Berry's five year stretch in prison for transporting a minor across a state line. The girl in question had been brought from Mexico to work as a hat check girl in Berry's St Louis club. Soon after she was fired and was then arrested on a prostitution charge. All roads led back to Berry and he was convicted (his second spell in jail) and fined $5,000.
Berry's response to the Stones and The Beatles? Well the great man was never going to wring his cap and give a bunch of white Englishmen the credit for inventing the blues.
"Not to my knowledge," Berry replied to one reporter who asked him of the Rolling Stones, coming over as coy and spiky as a Tennessee Williams diva, "have I talked with this person of whom you spoke – Dick Jagger?"
A London Walk costs £10 – £8 concession. To join a London Walk, simply meet your guide at the designated tube station at the appointed time. Details of all London Walks can be found at
www.walks.com
.