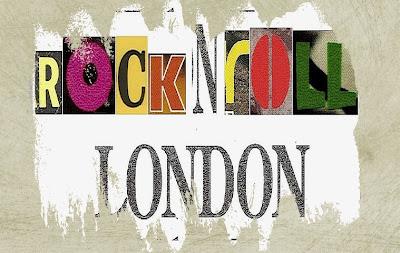 Elsewhere in Rock'n'Roll London…
Last week London Walks Beatles guide Richard Porter and The Bootleg Beatles went out to East London to straighten out the mystery of Abbey Road station.
Many Beatles fans have been heading for Abbey Road station on the DLR only to find out that it's not the location of the famous EMI studios and that zebra crossing after all (which can, of course, be found at St John's Wood).
The folks at the DLR recently put up this sign to assist with any confusion…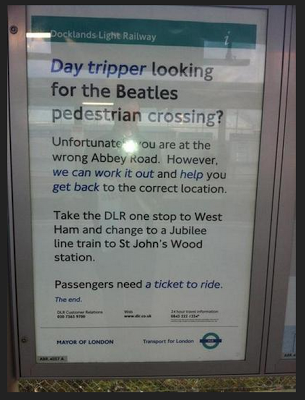 But nearby, we found this sign, which could equally lead to panic among Beatles fans…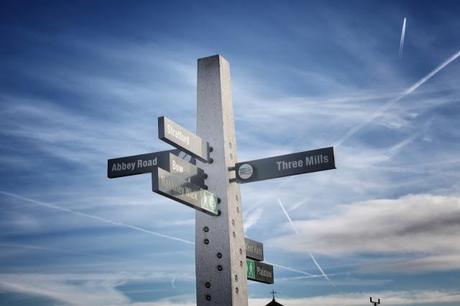 There's the aforementioned Abbey Road on the left… but what about Three Mills on the right? And what if one of the Three Mills is Heather Mills? For the safety of Beatle fans everywhere, I think we should be told.
In the meantime, here's our own Rock'n'Roll London video…

COMING SOON: THE ROCK'N'ROLL LONDON PUB WALK! EVERY WEDNESDAY NIGHT FROM 1ST MAY AT 7.00PM MEETING AT TOTTENHAM COURT ROAD STATION (EXIT 3).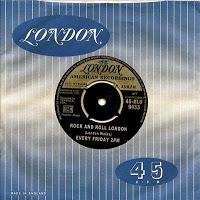 Join the Rock'n'Roll London Walk on Friday at 2pm, meeting at Tottenham Court Road Station (Exit 3) – to book a Private Walk call 020 7642 3978 or email [email protected]
CREDIT CARD PRE-BOOKING IS NOW AVAILABLE FOR THE ROCK'N'ROLL LONDON WALK EVERY FRIDAY VIA THE LONDON BOOKSTORE. CLICK HERE TO BOOK AND PREPAY. 
A London Walk costs £9 – £7 concession. To join a London Walk, simply meet your guide at the designated tube station at the appointed time. Details of all London Walks can be found at www.walks.com.