It's been a busy and tiring week, not to mention a very wordy one, so here are a few photos for want of anything more substantial.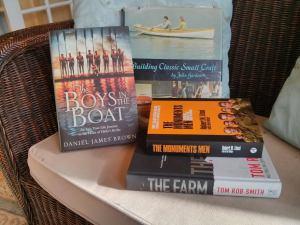 It's Mr Litlove's birthday today and I thought you might like to see the books he got. He is one of the hardest people I've ever had to choose for (quite possibly I married him for the challenge) but this year he did pretty well.
The Boys in the Boat
is a narrative non-fiction account of the American team who won the mens eight rowing race at the 1936 Olympics in Germany (my parents found that one for him).
The Farm
is a thriller,
The Monuments Men
about the Allies' attempts to rescue art stolen by the Nazis, and the one at the back is Mr Litlove's birthday present to himself. He found it in one of the local charity shops, a boat-building book published in the 1970s and written by a man who was pretty elderly by then. He keeps reading bits of it out to me and chuckling over the old-fashioned prose (and an awful lot of 'young men aren't what they used to be' sentiment). Each to his own.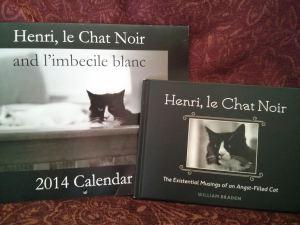 Here's something I've been meaning to show you for a while. You may recall that I
am obsessed by
  interested in the videos of that Existential feline Henri. Well, his kind owner sent me the latest Henri spin-offs. A calender charting his ideological struggles with
l'imbecile blanc
, and a book of his
bon mots
. They are both charming.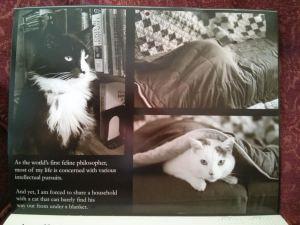 This is the calendar, to give you a taste of the contents.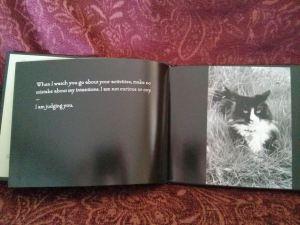 This is the book. Henri is as delightful and pithy and contemptuous as ever in both. Though they can't really equal the videos which remain something special as far as I'm concerned. But I will happily take Henri in whatever medium he chooses to philosophise. I have held the book up to my own cat (closer to
l'imbecile blanc
in mindset) and said to him: 'Why can't you be more like Henri?' He maintained a Sphinx-like silence in response.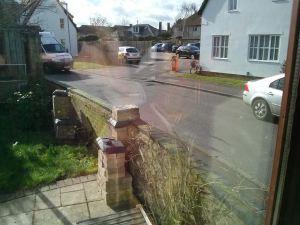 You may have heard that we've been having a lot of stormy weather in the UK this winter. Well the gales on the weekend took out our fence, leaving us communing more closely with the neighbours than usual. That it blew out the fence panels was not a great surprise, but the fact it toppled the brick pillars was quite impressive. I never heard it go, just woke in the morning to find the fence spread over the back garden. A man has been around already, talking manly things like inserting steel rods and whatnot to hold it together. I'm trying not to bother my pretty little head about it. And yes, Mr Litlove took this photo for me through glass and you can just about make out his ghost. It turns out the only working camera we have about the place is the one on his phone.
I must apologize to you all as I am WAY behind in blog reading at the moment, but I'm hoping for a quiet weekend in which I can catch up. I'm looking forward to hearing all about your past week too.