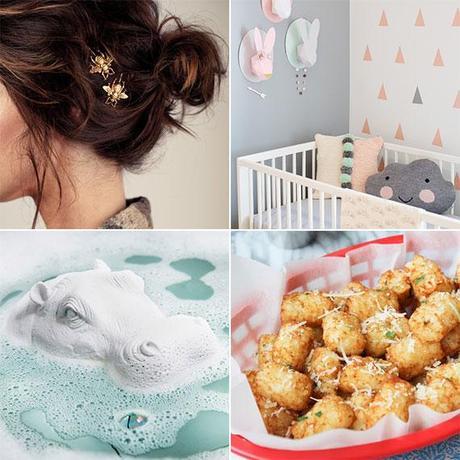 Happy Friday! We'll be trekking to my aunt's house this weekend, so Toby is going to be super excited when he realizes all his favorite people will be there to slip him tasty treats when I'm not looking. This week I'm loving…
These golden bumble bee bobby pins from Elizabeth Perry, even though real bees make me flail around in horror.
The soft colors of this absolutely darling nursery from Chloé Fleury.
This quirky hippo bath plug from Generate. Who's ready for a bubble bath for two?
These delicious looking tater tots from Spoonful of Flour, which are gussied up with a winning combo of truffle oil and parmesan cheese – yum!