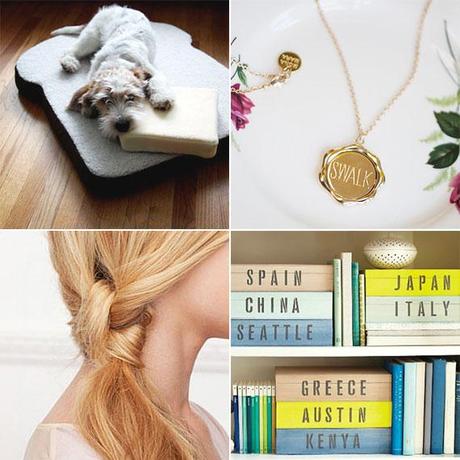 Happy Friday! I can't wait to go see The Conjuring this weekend, in addition to planning a little vacay for my upcoming birthday – hooray! This week I'm loving…
This adorable toast-shaped pet bed from The Toasty Pet Co. Would anyone care for a Toby sandwich?
This pretty SWALK necklace from Mona Mara, which stands for "sealed with a kiss" and NOT "swagger walk" like I had initially thought. Oh well, to each his own!
This elegant twist on the humble side ponytail from The Beauty Department
These DIY travel keepsake boxes Martha Stewart, which are a much better way to store vacation mementos than shoving them in box under the bed.