Living as I do, in New Jersey, I have had ample opportunity to study and photograph the Manhattan skyline. Here's a shot I took from Jersey City (you can see a JC pier across the lower foreground):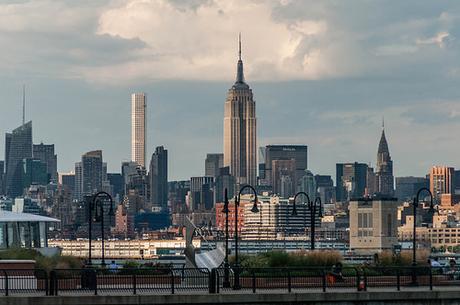 The photo is centered on the Empire State Building, perhaps the single best-known icon of New York City and one of the best-known buildings in the world. Over to the right we see the Chrysler Building, a slightly older and even more elegant skyscraper. Between the two we can see the somewhat lower MetLife Building over Grand Central Station; it used to be the Pan Am building, but Pan Am no longer exists. There's a somewhat more pedestrian structure in the middle ground below the Chrysler Building; it contains ventilator shafts for the Holland Tunnel. Call all that classic New York City.
There's another city being built. The Manhattan skyline is punctuated with cranes, though none are visible in this photo. The tall building at the far left is the Bank of America Building; it's in midtown near Times Square. It was topped off in December of 2007. It's the 4th tallest building in NYC after One World Center, the Empire State Building and 432 Park Avenue; the Chrysler Building is the 5th. That other tall building in the photo is 432 Park, the tallest residential building in the Western hemisphere, though it's not yet open. This is emerging New York City.
Here's a clean comparison: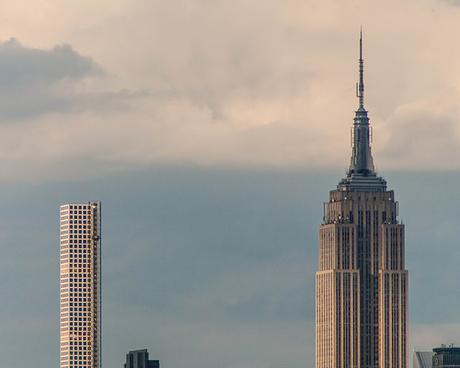 Those buildings are separated by three-quarters of a century.
Here's emerging NYC in Lower Manhattan: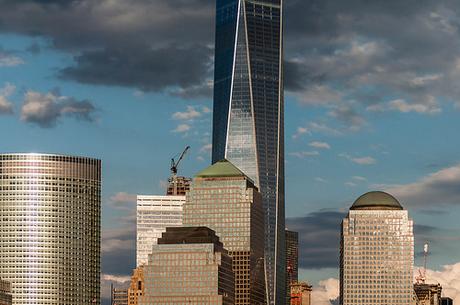 I'll let you name the buildings, but notice that crane to the left of One World Center. Here it is again: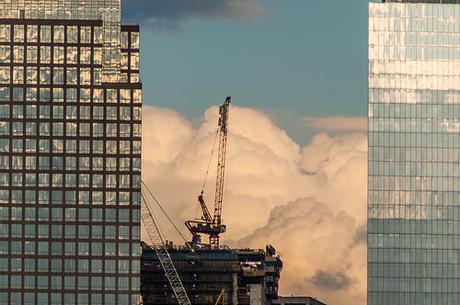 Where's this?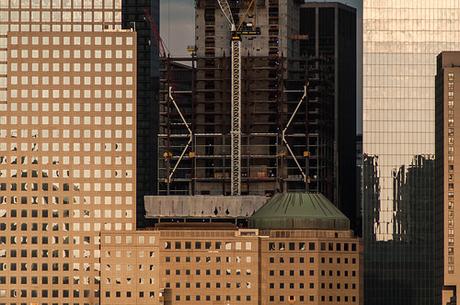 Roughly the same neighborhood: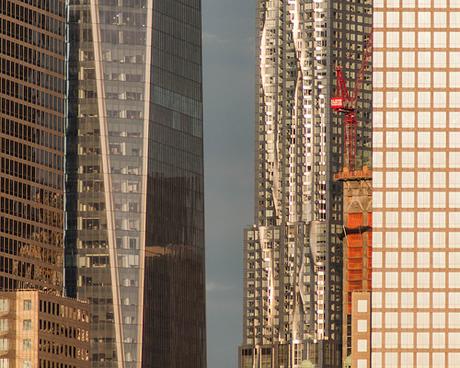 The building with the undulating surface is 8 Spruce Street, an apartment complex designed by Frank Gehry.
Just a bit south of those buildings we can see classic New York in all its variegated glory: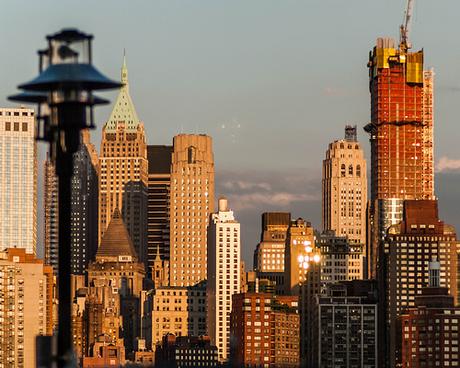 Yes, there's construction going on. (The street lamps at the left are in Jersey City.)