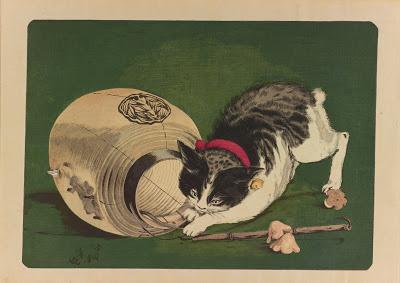 Adam Roberts put me on to Kiyochika's work
, though he wasn't interested in that cat. He was interested in the print below, which depicts Tsar Nicholas II waking from a nightmare after the Japanese had crushed the Russian Navy and Army. The print is from 1904 or 1906. The caption (at the left in the print) reads (
translation in Wikipedia
):
Not a single win had the Russian Navy and Army but full of flat and crushing defeats in the battles against the Japanese Force. Keeping their defeats secret from their home, they constantly conveyed false reports. The apparatus used by the Russians --- the battleship, the cannon, the locomotive and the telegraph --- were so fed up and went home to show the reality. Battleship: "Here I am the battleship. I got destroyed by the Japanese forces, now here's how I look like." Cannon: "Me I am the cannon. I got heavily attacked by the Japanese forces and became so a crippled style like this, so that no one can recognize what I am." "Me too, me too," follows the locomotive and the telegraph. All of them heavily deformed and nearly wiped out, wrapped with bandages or carrying crutches, the apparatus reported every details of the defeats. A Russian noble (Nicholas II), learning (of) the total defeat for the first time said: "Hmmm, not even the reports we had so far were very much victorious, but I did not realize we were losing that badly. Well, it's too late anyways; sorry I am, but just be injured guys."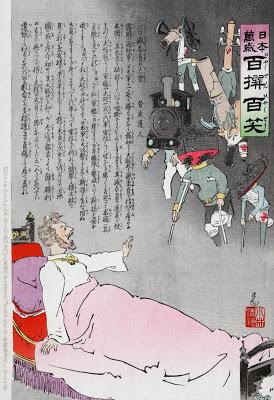 Adam was interested in the creatures at the upper right, the defeated Russian weaponry depicted as human/machine cyborgs: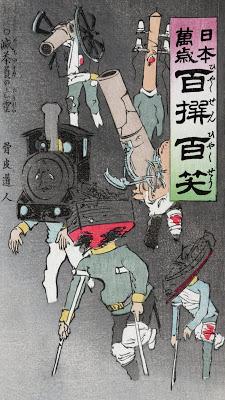 Kiyochika lived from 1847 to 1915
and is regarded as the last important ukio-yi artist. He was particularly interested in Japan's rapid modernization during the Meiji period.