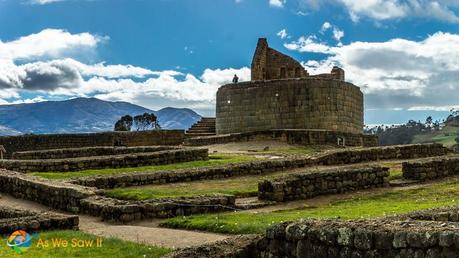 Ingapirca Sun Temple
The Sun Temple is the centerpiece of Ingapirca and its most noticeable structure.  It may look round but it's not; its walls is an elliptical ring. It is a great example of Inca architecture and stonework. it is also a great example of Inca engineering because its carefully chiseled stones fit together perfectly. The Ingapirca Sun Temple was precisely aligned so that at the solstices the sun's light would enter the the small chamber at the top of the temple perfectly.   Known as "The Machu Picchu of Ecuador," Ingapirca is the largest and most important pre-Columbian ruin in Ecuador.  Though it's not as large or as impressive as its Peruvian counterpart, it's still worth a visit if you're anywhere near Cuenca. We have a lot more photos of the ruins in our Ingapirca photo album. Enjoy.
(Visited 1 times, 1 visits today)
Be sociable, share!
Twitter
0
Facebook
0
Google+
0
LinkedIn
0
Posted on:
January 10, 2014