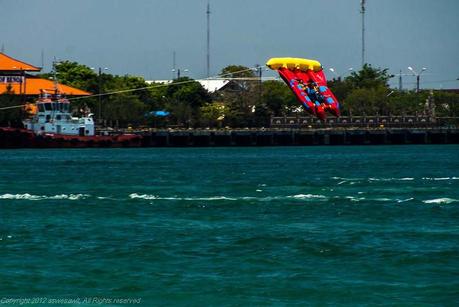 On Bali Flying Fish is a sport, not a dinner item
Now this looks like an exhilarating experience!  Out of all the water sports in the world, we'd never seen Flying Fish before. At least, not this type.
We were on our way to visit the Hindu ocean temple Uluwatu and stopped in Nusa Dua for lunch.  Nusa Dua is a very popular resort area and offers a lot of water sports.  This was so new to us and looked like such fun, we just had to stop and watch for a while.
Aerodynamics in motion: Two people don life jackets, get on a massive, inflatable rubber raft and hold on tight.  A speedboat pulls the raft along on the ocean waves until it catches air underneath and takes flight.  Then it drops to the ocean again.  It gets its name from the up-and-down motion along the way, just like flying like fish jumping on the seawater.
As many as 10 rafts were "flying" high that day.
Would you do this?
Posted on:
September 20, 2013