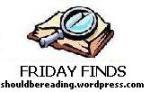 Hosted by Should be Reading
FRIDAY FINDS showcases the books you 'found' and added to your To Be Read (TBR) list… whether you found them online, or in a bookstore, or in the library — wherever! (they aren't necessarily books you purchased).
So, come on — share with us your FRIDAY FINDS
This week I was thrilled to receive a copy of A Meditation On Murder by Robert Thorogood, the creator of the BBC One TV series Death in Paradise which I love as much for the beautiful scenery as the clever murder mysteries. The author read his first Agatha Christie aged ten and has been in love with the murder mystery genre ever since.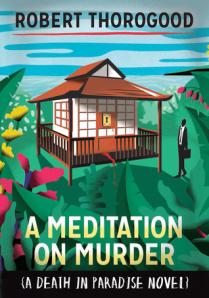 Blurb
Aslan Kennedy has an idyllic life: Leader of a Spiritual Retreat for wealthy holidaymakers on one of the Caribbean's most unspoilt islands, Saint Marie.
Until he's murdered, that is. The case seems open and shut: when Aslan was killed he was inside a locked room with only five other people, one of whom has already confessed to the murder.
Detective Inspector Richard Poole is hot, bothered, and fed up with talking to witnesses who'd rather discuss his 'aura' than their whereabouts at the time of the murder. But he also knows that the facts of the case don't quite stack up. In fact, he's convinced that the person who's just confessed to the murder is the one person who couldn't have done it. Determined to track down the real killer, DI Poole is soon on the trail, and no stone will be left unturned. Goodreads
The annual Guide Dogs for the Blind big book sale was on last weekend, not to be confused with the smaller fundraiser for Hardback books or even the fundraiser for the paperback books which I've also visited this year. After allegedly choosing too many books at the last sale I was incredibly restrained and only picked a few books this time…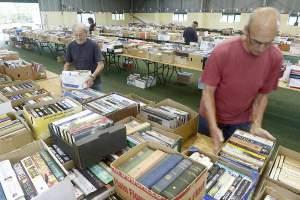 The Colour Purple by Alice Walker that I read many moons ago…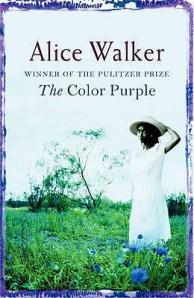 Blurb
Set in the deep American south between the wars, this is the classic tale of Celie, a young poor black girl. Raped repeatedly by her father, she loses two children and then is married off to a man who treats her no better than a slave. She is separated from her sister Nettie and dreams of becoming like the glamorous Shug Avery, a singer and rebellious black woman who has taken charge of her own destiny. Gradually Celie discovers the support of women that enables her to leave the past behind and begin a new life. Goodreads
Atonement by Ian McEwan which is one of my favorite books of all time but appears to have grown a pair of legs and moved across the water to England with my daughter and never returned.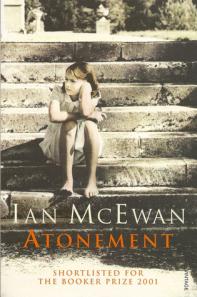 Blurb
Ian McEwan's symphonic novel of love and war, childhood and class, guilt and forgiveness provides all the satisfaction of a brilliant narrative and the provocation we have come to expect from this master of English prose.
On a hot summer day in 1934, thirteen-year-old Briony Tallis witnesses a moment's flirtation between her older sister, Cecilia, and Robbie Turner, the son of a servant and Cecilia's childhood friend. But Briony's incomplete grasp of adult motives—together with her precocious literary gifts—brings about a crime that will change all their lives. As it follows that crime's repercussions through the chaos and carnage of World War II and into the close of the twentieth century, Atonement engages the reader on every conceivable level, with an ease and authority that mark it as a genuine masterpiece. Goodreads
Those two clearly don't count as they are simply replacements for lost books!
So the counting only begins here with  a copy of A Capital Crime by Laura Wilson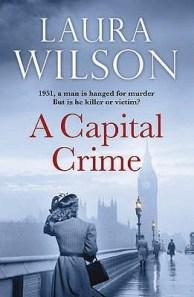 Blurb
It is winter, 1950 in a dingy part of London. John Davies confesses to strangling his wife and baby daughter, and for DI Ted Stratton of West End Central, it promises to be a straightforward case. When Davies recants, blaming respectable neighbor Norman Backhouse for the crimes, nobody, including Stratton, sees any reason to believe him. Davies is convicted and hanged, but later, after a series of gruesome discoveries, Stratton begins to suspect that there has been a terrible miscarriage of justice.
Her marriage in tatters, ex-MI5 agent Diana Calthrop is determined to start a new life, but, despite a promising beginning, she soon finds herself in trouble both financially and emotionally. And with a seemingly unstoppable killer of women on the loose, she is very vulnerable indeed. Amazon
Having been seduced by the mentions of Phryne Fisher on Confessions of a Mystery Novelist blog which if you haven't visited yet, you really must. Margot Kinberg dreams up titles linked to songs and then uses this subject to write a post that discusses a number of books. Absolutely ingenious. Anyway I'd not read any books featuring Phryne Fisher so I pounced upon a copy of Urn Burial (the 8th in the series) by Kerry Greenwood.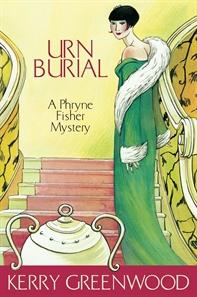 Blurb
The redoubtable Phryne Fisher is holidaying at Cave House, a Gothic mansion in the heart of Australias Victorian mountain country. But the peaceful surroundings mask danger. Her host is receiving death threats, lethal traps are set without explanation, and the parlour maid is found strangled to death. What with the reappearance of mysterious funerary urns, a pair of young lovers, an extremely eccentric swagman, an angry outcast heir, and the luscious Lin Chung, Phrynes attention has definitely been caught. Her search for answers takes her deep into the dungeons of the house and into the limestone Buchan caves. What will she find this time? Goodreads
And I found some more Agatha Christie novels starting with her first novel The Mysterious Affair at Styles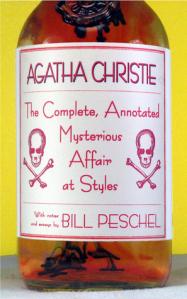 Blurb
Captain Hastings, wounded at the Front, is recuperating at Styles Court in Essex. The house belongs to the Inglethorpe family, friends from his childhood. When Emily Inglethorpe is found poisoned, it is fortunate for Hastings that he bumps into his old friend Hercule Poirot, who can help to solve this horrible murder. When the evidence seems to point to one particular family member it is up to Poirot, through his methodical investigation, to prove the real murderer is someone else entirely. Amazon
Murder on the Links, the second Poirot novel.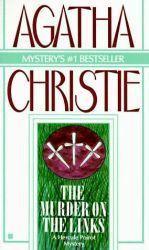 Blurb
On a French golf course, a millionaire is found stabbed in the back…
An urgent cry for help brings Poirot to France. But he arrives too late to save his client, whose brutally stabbed body now lies face downwards in a shallow grave on a golf course.
But why is the dead man wearing his son's overcoat? And who was the impassioned love-letter in the pocket for? Before Poirot can answer these questions, the case is turned upside down by the discovery of a second, identically murdered corpse… Amazon
and finally I have found a Tommy and Tuppence novel in deference to my blogging friend Fiction Fan, another blog full of excellent and honest reviews on a wide range of subjects, who has urged me to try one.
The Secret Adversary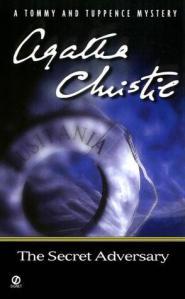 Blurb
Tommy and Tuppence, two young people short of money and restless for excitement, embark on a daring business scheme – Young Adventurers Ltd. Their advertisement says they are 'willing to do anything, go anywhere'. But their first assignment, for the sinister Mr Whittington means Tuppence Beresford poses as an American-but she and Tommy will have to play detective when her fake identity results in a real threat to her life. Goodreads
So I think I did really well this week and my £8 went towards to the total of £19,656.05 which was raised.
What have you found to read this week?