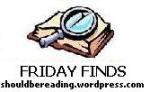 Hosted by Should be Reading
FRIDAY FINDS showcases the books you 'found' and added to your To Be Read (TBR) list… whether you found them online, or in a bookstore, or in the library — wherever! (they aren't necessarily books you purchased).
So, come on — share with us your FRIDAY FINDS!
Firstly I was delighted to be approved by Hodder & Stoughton to read a copy of The Ties That Bind by Erin Kelly after her last novel The Burning Air was one of my Top Ten Reads of 2013.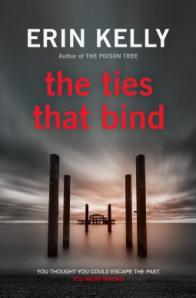 Blurb
Could a soul, once sold, truly be redeemed?
Luke is a true crime writer in search of a story. When he flees to Brighton after an explosive break-up, the perfect subject lands in his lap: reformed gangster Joss Grand. Now in his eighties, Grand once ruled the Brighton underworld with his sadistic sidekick Jacky Nye – until Jacky washed up by the West Pier in 1968, strangled and thrown into the sea. Though Grand's alibi seems cast-iron, Luke is sure there's more to the story than meets the eye, and he convinces the criminal-turned-philanthropist to be interviewed for a book about his life.
Luke is drawn deeper into the mystery of Jacky Nye's murder. Was Grand there that night? Is he really as reformed a character as he claims? And who was the girl in the red coat seen fleeing the murder scene? Soon Luke realises that in stirring up secrets from the past, he may have placed himself in terrible danger. Amazon
I have also got a copy of Little Mercies by Heather Gudenkauf, an author who has always provided me with a good tale…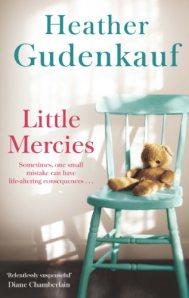 Blurb
Veteran social worker Ellen Moore has seen the worst side of humanity—the vilest acts one person can commit against another. She is a fiercely dedicated children's advocate and a devoted mother and wife. But one blistering summer day, a simple moment of distraction will have repercussions that Ellen could never have imagined, threatening to shatter everything she holds dear, and trapping her between the gears of the system she works for.
Meanwhile, ten-year-old Jenny Briard has been living with her well-meaning but irresponsible father since her mother left them, sleeping on friends' couches and moving in and out of cheap motels. When Jenny suddenly finds herself on her own, she is forced to survive with nothing but a few dollars and her street smarts. The last thing she wants is a social worker, but when Ellen's and Jenny's lives collide, little do they know just how much they can help one another.
A powerful and emotionally charged tale about motherhood and justice, Little Mercies is a searing portrait of the tenuous grasp we have on the things we love the most, and of the ties that unexpectedly bring us together. NetGalley
From Amazon Vine I have a copy of This Is The Water by Yannick Murphy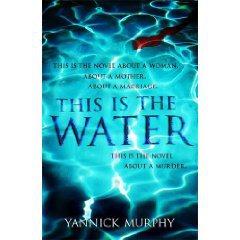 Blurb
This is a novel about a woman. About a mother. About a marriage.
About a murder.
In the brightly lit public pool the killer swims and watches. Amongst the mothers cheering on their swim team daughters is Annie. Watching her two girls race, she's thinking of other things. Her husband's emotional distance. Her lost brother. The man she's drawn to.
Then she learns a terrible secret.
Now her everyday cares and concerns seem meaningless. Annie knows she has to act. Above all, she must protect her children. Amazon
After reading FictionFan's Book Reviews blog last week, which is always dangerous, there was a link to Bibliopotamus' Book Reviews who had written an intriguing review of So Brilliantly Clever by Peter Graham click on the book cover to read the review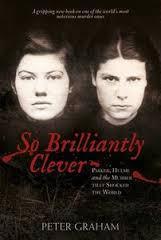 Blurb
On June 22, 1954, teenage friends Juliet Hulme—better known as bestselling mystery writer Anne Perry—and Pauline Parker went for a walk in a New Zealand park with Pauline's mother, Honora. Half an hour later, the girls returned alone, claiming that Pauline's mother had had an accident. But when Honora Parker was found in a pool of blood with the brick used to bludgeon her to death close at hand, Juliet and Pauline were quickly arrested, and later confessed to the killing. Their motive? A plan to escape to the United States to become writers, and Honora's determination to keep them apart. Their incredible story made shocking headlines around the world and would provide the subject for Peter Jackson's Academy Award–nominated film, Heavenly Creatures.
A sensational trial followed, with speculations about the nature of the girls' relationship and possible insanity playing a key role. Among other things, Parker and Hulme were suspected of lesbianism, which was widely considered to be a mental illness at the time. This mesmerizing book offers a brilliant account of the crime and ensuing trial and shares dramatic revelations about the fates of the young women after their release from prison. With penetrating insight, this thorough analysis applies modern psychology to analyze the shocking murder that remains one of the most interesting cases of all time. Amazon
So what have you found this week?