a href="">">" rel="nofollow">http://shouldbereading.wordpress.com">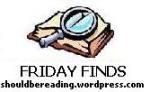 Hosted by Should be Reading
FRIDAY FINDS showcases the books you 'found' and added to your To Be Read (TBR) list… whether you found them online, or in a bookstore, or in the library — wherever! (they aren't necessarily books you purchased).
So, come on — share with us your FRIDAY FINDS!
No new books have entered my house this last week! I am concentrating on choosing great books to read on my holiday and although I have plenty of both physical and eBooks I like to have a wide selection of great books to read and that invariably means choosing some new ones.
Over the last couple of weeks these are some that I'm debating packing with my swimsuits!
Go To Sleep by Helen Walsh after finding a review by What Hannah Read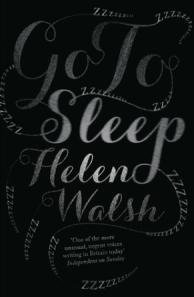 Blurb
As she drinks in the view in front of her, Rachel Massey stands on the cusp of the biggest journey of her life. For Rachel is about to become a mother. Mere hours from now, her first baby will be here and she can't wait to meet it. Terrified and excited, there is nothing she wants more, yet she senses things will never be the same again. This is the story of Rachel's voyage into motherhood. Full of the same hopes and dreams as any parent-to-be, she soon realises that nothing about this new world is as she imagined. As the raw shock of sleep deprivation takes its toll on her and the truth begins to blur with the unreal, Rachel becomes consumed by one sole desire – to sleep. But how far will she go to get her baby to sleep? Goodreads
Too disturbing for a poolside read?
On Musings From A Bookmammal I found not one, but two books
The Blessings by Elise Juska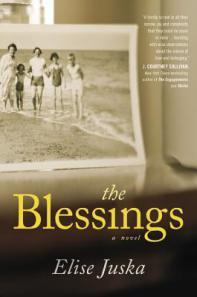 Blurb
When John Blessing dies and leaves behind two small children, the loss reverberates across his extended family for years to come. His young widow, Lauren, finds solace in her large clan of in-laws, while his brother's wife Kate pursues motherhood even at the expense of her marriage. John's teenage nephew Stephen finds himself involved in an act of petty theft that takes a surprising turn, and nephew Alex, a gifted student, travels to Spain and considers the world beyond his family's Northeast Philadelphia neighborhood. Through departures and arrivals, weddings and reunions, THE BLESSINGS reveals the interior worlds of the members of a close-knit Irish-Catholic family and the rituals that unite them. Goodreads
and The Collected Works of A.J. Fikry by Gabrielle Zevin, a book for book lovers.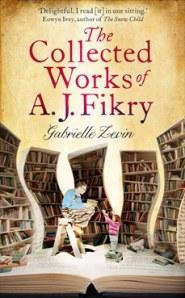 Blurb
A.J. Fikry owns a failing bookshop. His wife has just died, in tragic circumstances. His rare and valuable first edition has been stolen. His life is a wreck.
Amelia is a book rep, with a big heart, and a lonely life
Maya is the baby who ends up on A.J.'s bookshop floor with a note.
What happens in the bookshop that changes the lives of these seemingly normal but extraordinary characters?
This is the story of how unexpected love can rescue you and bring you back to real life, in a world that you won't want to leave, with characters that you will come to love.
Growing up, Gabrielle Zevin's parents took her to the library like it was church and she suspects this is why she became a writer. The Collected Works of A.J. Fikry is her eighth novel Amazon
I came across a book whose synopsis is ideal for me, what better than a little historical fiction within a healthy dollop of insanity thrown in for good measure? What She Left Behind by Ellen Marie Wiseman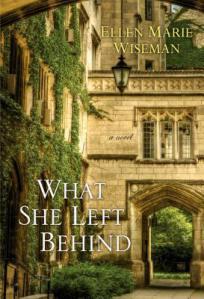 Blurb
Ten years ago, Izzy Stone's mother fatally shot her father while he slept. Devastated by her mother's apparent insanity, Izzy, now seventeen, refuses to visit her in prison. But her new foster parents, employees at the local museum, have enlisted Izzy's help in cataloging items at a long-shuttered state asylum. There, amid piles of abandoned belongings, Izzy discovers a stack of unopened letters, a decades-old journal, and a window into her own past.
Clara Cartwright, eighteen years old in 1929, is caught between her overbearing parents and her love for an Italian immigrant. Furious when she rejects an arranged marriage, Clara's father sends her to a genteel home for nervous invalids. But when his fortune is lost in the stock market crash, he can no longer afford her care–and Clara is committed to the public asylum.
Even as Izzy deals with the challenges of yet another new beginning, Clara's story keeps drawing her into the past. If Clara was never really mentally ill, could something else explain her own mother's violent act? Piecing together Clara's fate compels Izzy to re-examine her own choices–with shocking and unexpected results.
Illuminating and provocative, What She Left Behind is a masterful novel about the yearning to belong–and the mysteries that can belie even the most ordinary life. Amazon>.
Now in case after the creepy start, you have wondered where the normal murder and mayhem books are this week I confirm that no holiday would be complete without at least one quality crime book so I have added The Bones Beneath by Mark Billingham.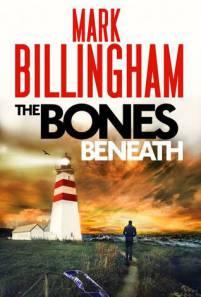 Blurb
The Deal
Tom Thorne is back in charge – but there's a terrifying price to pay. Stuart Nicklin, the most dangerous psychopath he has ever put behind bars, promises to reveal the whereabouts of a body he buried twenty-five years before. But only if Thorne agrees to escort him.
The Danger
Unable to refuse, Thorne gathers a team and travels to a remote Welsh island, at the mercy of the weather and cut off from the mainland. Thorne is determined to get the job done and return home before Nicklin can outwit them.
The Deaths
But Nicklin knows this island well and has had time to plan ahead. Soon, new bodies are added to the old, and Thorne finds himself facing the toughest decision he has ever had to make…Amazon
What have you found this week?