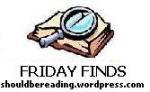 Hosted by Should be Reading
FRIDAY FINDS showcases the books you 'found' and added to your To Be Read (TBR) list… whether you found them online, or in a bookstore, or in the library — wherever! (they aren't necessarily books you purchased).
So, come on — share with us your FRIDAY FINDS!
I've had a very restrained, or maybe just a very busy, week so have a small selection for you to browse today.
From NetGalley I have Dear Daughter by Elizabeth Little which is due to be published on 14 August, the seventh book on my list with this publication date! Until I started blogging (and scheduling) I didn't realize that all publishers seem to have key dates where they publish most books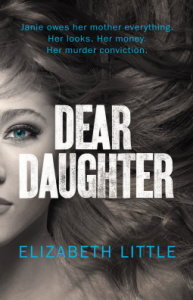 Blurb
'As soon as they processed my release Noah and I hit the ground running. A change of clothes. A wig. An inconspicuous sedan. We doubled back once, twice, then drove south when we were really headed east. In San Francisco we had a girl who looked like me board a plane to Hawaii.
Oh, I thought I was so clever.
But you probably already know that I'm not.' NetGalley
I have also received a copy of Sweet Damage by Rebecca James which is going to be published on 2 December 2014. I was particularly pleased to be approved for this book as I enjoyed the author's debut novel Beautiful Malice.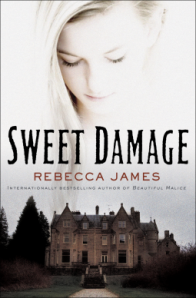 Blurb
Tim Ellison feels lucky when he finds a cheap place to rent in his dream location, close to the restaurant where he works as a chef, and even closer to his favorite surf spot at Sydney's popular Manly Beach. But the cavernous house is infused with a sense of foreboding, and his furnished room there comes with a condition: he must look after the mansion's mysterious owner.
Anna London is withdrawn and frail, a twenty-year-old with the inexplicable demeanor and habits of an elderly woman. From her grand home on the hill, she can see the city and the ocean, but she can never leave. Her anxieties keep her locked inside, unable to handle the outside world.
As Tim settles in, he struggles to get to know the person who depends on him for food and care. Slowly, Anna reveals glimpses of herself—her history, her sadness, her crippling fears. And then strange things begin to happen: loud banging in the night, unexplained figures in the shadows, sinister messages on the walls. Tim is startled to find that even as his unease about the house grows, he is increasingly attracted to its hauntingly beautiful owner. But is Anna London someone to pity . . . someone to love . . . or someone to fear?
Taut and intense, Sweet Damage is an addictive novel about vulnerability, obsession, and duplicity, with a modern Gothic twist. NetGalley
I also have bought a copy of Cry Baby by David Jackson for my kindle at the bargain price of 99p.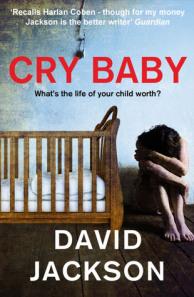 It's every mother's nightmare – the abduction of her baby.
That's how it starts for Erin Vogel when she is attacked and left unconscious in her apartment. When she awakes, it is to find that Georgia, her six-month-old daughter, has been taken.
But Erin is given a chance to get Georgia back. At an unthinkable price.
Like most mothers, she has always said she would do anything for her child. Now the strength of that bond is about to be put to the ultimate test.
And when her actions arouse the interest of a certain Detective Callum Doyle, one thing is inevitable: a confrontation that will be as explosive as it is unforgettable.
From the highly acclaimed author of Pariah, The Helper and Marked comes a nerve-shredding novel that questions the line we draw between good and evil. Goodreads
Before I got stupidly busy at work, I finally sorted out my bookcases and thought I'd share the picture of the result.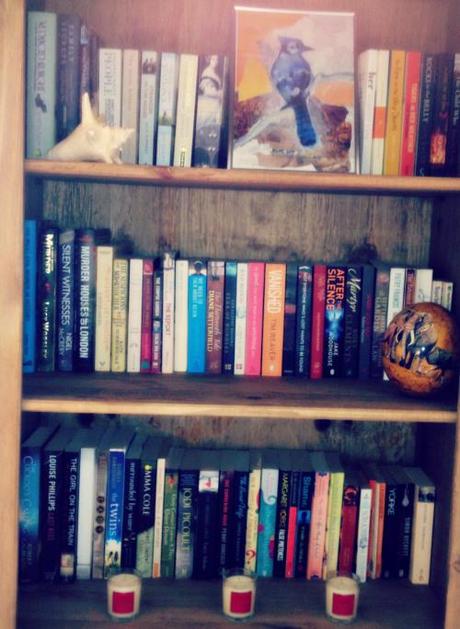 The bottom shelf of this bookcase is dedicated to the books I own but haven't read…. as you can see it appears to be full!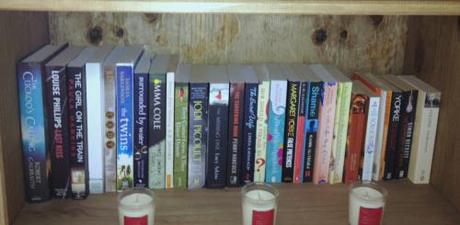 The other bookcase, identical to this one, which was used for the header for my blog, now has a totally different selection of books on it so maybe it is time I updated that too?
Please share your finds with me, after all I'm sure I can make room for just one more!