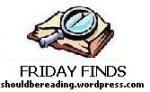 Hosted by Should be Reading
FRIDAY FINDS showcases the books you 'found' and added to your To Be Read (TBR) list… whether you found them online, or in a bookstore, or in the library — wherever! (they aren't necessarily books you purchased).
So, come on — share with us your FRIDAY FINDS
It seems that this week everyone has been tempting me with brilliant sounding books, I have resisted plenty but the following where the temptation was just too strong.
Liz Loves Books had a fascinating interview with the author of The Dark Meadow, Andrea Maria Schenkel that convinced me that I needed a copy of this book.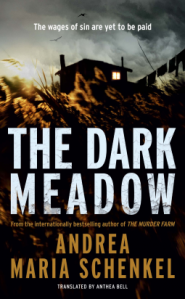 Blurb
Bavaria, Germany, 1947
At the end of the war, Afra Zauner returns to her parents' cottage on the edge of Mauther Forest. Unmarried, and pregnant. As she struggles to raise her child, her father's shame, her mother's fury and the loud whispers of the neighbours begin to weigh upon her. She doesn't believe in her sin. But everyone else does.
And someone brings judgement down upon her.
Many years later, Hermann Müller is throwing a drunk out of his tavern. A traveller, who won't stop ranting about a murder left unsolved, about police who never investigated. Out of curiousity, the file is reopened. And in the cold light of hindsight, a chilling realisation creeps upon the community.
No-one ever atoned for Afra's death. But her story is waiting to be told.
Andrea Maria Schenkel returns to the form of her groundbreaking The Murder Farm, narrating through suspects, victims and investigators to lead the reader to their own awful understanding NetGalley
Read Liz's interview and review here
The Night Hunter by Caro Ramsay due to be published in November caught my eye as I enjoyed Singing to the Dead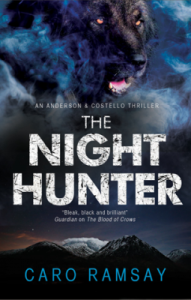 Blurb
Elvie McCulloch's sister Sophie has been missing for 57 days. She went out for a run – and never came home. Several young woman in the area have disappeared in similar circumstances, and Elvie's family fears the worst.
As Elvie is driving to her new job late at night, the naked, emaciated body of a young woman crashes from high above onto an oncoming car. Elvie recognises her as Lorna Lennox, who has been missing for weeks. But why was she up there? Where had she been all this time? And why was she running for her life?
Teaming up with retired detective Billy Hopkirk, who has been retained by the mother of one of the missing girls to find her daughter, Elvie determines to find out the truth. But as the pair alternately collaborate with and infuriate investigating police detectives Anderson and Costello, they find themselves up against a terrifying enemy. Someone who has killed before. Someone who will kill again, for pure enjoyment. Someone they call The Night Hunter. NetGalley
I have a copy of The Stolen Girl by Renita D'Silva and I know I will love this after reading the enchanting Monsoon Memories and The Forgotten Daughter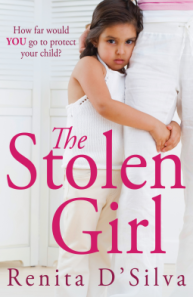 Blurb
For as long as thirteen-year-old Diya can remember, it's always been just her and her mum, Vani. Despite never staying in one place long enough to call it home, with her mother by her side, Diya has never needed anything else.
Then, in an instant, Diya's fragile world is shattered. Her mother is arrested, accused of abducting Diya when she was a baby…
Vani has spent a lifetime looking over her shoulder, determined to make the best possible life for her daughter. Now she must fight for her child, re-opening the door to her childhood in India and the woman who was once as close to her as a sister. NetGalley
And lastly I chose something for some lighter reading; Hello From The Gillespies by Monica McInerney which is due to be published in November by Penguin Books (UK)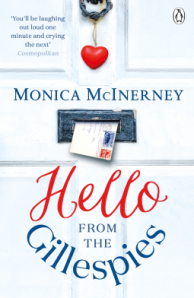 Blurb
Angela Gillespie has been pretending that her family is perfect for the last 30 years. And she is tired of it. This year she needs to tell it how it is.
Angela's husband is in the throes of a mid-life crisis. Her grown-up daughters are more out of control than ever. And her youngest child spends all of his time talking to an imaginary friend. With fantasy thoughts of a life before marriage and motherhood becoming more than just an innocent daydream, Angela's real life is slowly slipping out of focus. But, as the repercussions of her too truthful Christmas letter keep coming, perhaps she should have been careful what she wished for… NetGalley
Please share your finds with me because I am always on the look out for another good read and without your help I may miss something amazing.