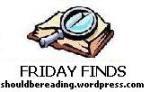 Hosted by Should be Reading
FRIDAY FINDS showcases the books you 'found' and added to your To Be Read (TBR) list… whether you found them online, or in a bookstore, or in the library — wherever! (they aren't necessarily books you purchased).
So, come on — share with us your FRIDAY FINDS!
My NetGalley addiction is still going strong….
From Pan Macmillan I have a copy of Another Night, Another Day by Sarah Rayner which is due to be published 17 July 2014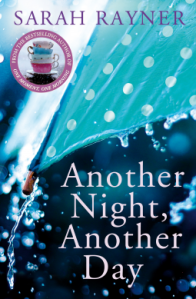 Blurb
From the author of the bestselling One Moment, One Morning comes another beautiful, bittersweet novel set in Brighton. Three people, each crying out for help . . . There's Karen, worried about her dying father; Abby, whose son has autism and needs constant care; and Michael, a family man on the verge of bankruptcy. As each sinks under the strain, they're brought together at Moreland's Clinic. Here, behind closed doors, they reveal their deepest secrets, confront and console one another and share plenty of laughs. But how will they cope when a new crisis strikes? NetGalley
I was quite taken by One Moment, One Morning so I have high hopes that this is equally as good.
On 1 August 2014 Mothers of the Disappeared by Russel D. McLean will be published by Severn House.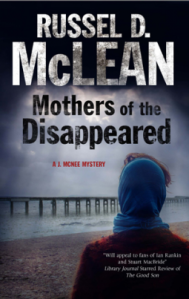 Blurb
Dundee-based private investigator J. McNee finds his past is about to catch up with him in this intriguing mystery.
When the mother of a murdered child asks PI J McNee to re-open a case he helped close during his time in the police, McNee is faced with some uncomfortable questions. Is the wrong man serving a life sentence for a series of brutal murders? If so, why did he admit his guilt before the court? McNee must make a terrifying moral choice. NetGalley
Lastly, with a publication date of 14 August 2014 Penguin have kindly given me a copy of Fall From Grace by Tim Weaver I really enjoyed the third in the David Raker series, Vanished and have a copy of the fourth Never Coming Back which I now need to read before this one!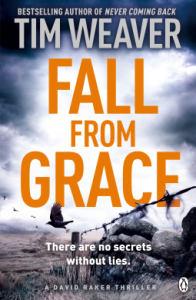 Blurb
YOU DON'T REALLY KNOW ANYBODY. NOT EVEN THE ONES YOU LOVE…
When Leonard Franks and his wife Ellie leave the clamor of London for a dream retirement on the seclusion of Dartmoor, everything seems perfect. But then the dream shatters. Late on a January afternoon, only two years into their new life, Leonard leaves the house to fetch firewood – and never returns. Nine months later, he's still missing.
With the police investigation dead in t.he water, Ellie and her family turn to David Raker. Raker tracks down missing people for a living. He knows how they think. But nothing can prepare him for what he's about to find.
Because, behind Leonard Franks's disappearance, lies a deadly secret, buried so deep it was never meant to be found. And, by the time Raker starts to uncover the truth, it's not just him in danger – it's everyone he's ever cared about . . . NetGalley
I came across Swimming in the Dark by Paddy Richardson which has made its way to the TBR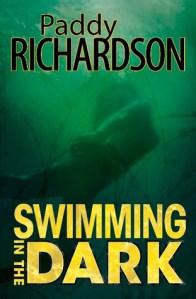 Blurb
A mesmerising tale of three women who must overcome the past and beat the odds to find hope for the future.
German immigrant, Ilse Klein, lives sedately in Central Otago with her mother, but their peaceful summer is fractured when Ilse, during her nightly swim in the river, discovers one of her young students on the riverbank about to give birth. She must decide whether to shelter the girl and endanger herself and her mother, or to tread the route of safety in the face of corruption and brutality she had thought left far behind in the years of her childhood.
A fast-paced and beautifully told story of three women and the real meaning of courage. Goodreads
And lastly my trusted advisor FictionFan recommended I read Absolution by Patrick Flanerly, read the review here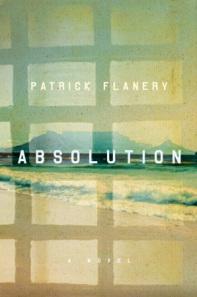 Blurb
In this stunning literary debut, Patrick Flanery delivers a devastating and intimate portrait of post-apartheid South Africa, and the perils of taking sides when the sides are changing around you.
Told in shifting perspectives, Absolution is centred on the mysterious character of Clare Wald, a controversial writer of great fame, haunted by the memories of a sister she fears she betrayed to her death and a daughter she fears she abandoned. Clare comes to learn that in this conflict the dead do not stay buried, and the missing return in other forms–such as the small child present in her daughter's last days who has reappeared, posing as Clare's official biographer. Sam Leroux, a South African expatriate returning to Cape Town after many years in New York, gradually earns Clare's trust, his own ghosts emerging from the histories that he and Clare begin to unravel, leading them both along a path in search of reconciliation and forgiveness. Goodreads
So as always I've found more than I can possibly read, what have you found this week?