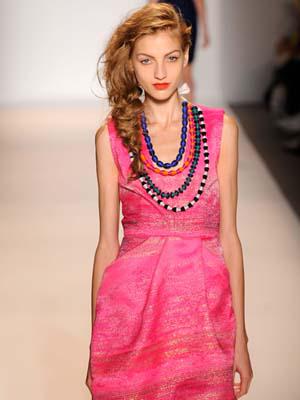 Here we meet again on another Friday. I can hardly believe a whole week has passed and another weekend is upon us, where does the time go? Well you can be sure that I am not going to waste this weekend feeling bad. It looks like the weather is going to be beautiful, suitable for the flea market, yard work, and maybe some Spring cleaning? We will just have to see how it shapes up. Anyone have exciting plans? 
I cannot think of anything more exciting on this Friday than to feature the lovely Texas designer whose collections are classic but also have that added whimsical twist making her a shining star in the industry. After being able to view each one of the collections with all their magnificent color, detail, and beautiful fabrics, I leave thinking this is the best one yet but true to

Lela Rose

 there is always more where that came from.
 Rose was gracious enough to give us a glimpse into a "day in her life" and what really makes her clock tick tock. A
ll the while she was wrapping up Fashion Week in NYC for Fall 11 and then off to India for a 3 week trip. Whew, I am exhausted! Lela I hope you find some wonderful inspiration in your travels because you sure do inspire us.
Thank you!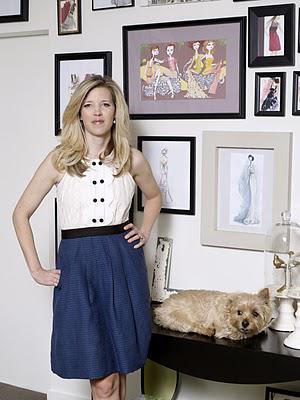 Where are you from?
LR: Dallas, TXWhat you led you into Fashion Design?LR: fabric fabric fabric…I just can't get enough of themDescribe your style?LR: I am always in color and a dress. I find a dress is the perfect foundation to layer on whatever accessory suits you at the time- whether it is knits, necklaces, shoes…and it is just one zip.What are some of your favorite looks, accessories, items?LR: I designed these silk satin wrapped  oversize ball necklaces a few seasons ago. I call them my "black pearls" and wear them with everything.What other designers  do you admire and what or who do you look to for inspiration?LR: I admire many designers but I love to see what Lanvin is doing as well as Stefano Pilati from YSL.Can you give me a brief summary of " a day in the life" of Lela Rose?LR: I bike to work with Stitch and usually stop by the green market on my way to pick up ingredients for dinner. I get to work and that is when the "arts & crafts" portion of the day begins. I feel like I am a kid in arts camp!! We play with fabrics and details while analyzing the clothes as they are being sewn. I leave the office about 6pm and head home to make dinner for my kids and husband. We always have homemade ice cream (I think I need to add a little more exercise into the day) which is the perfect way to end what I consider a wonderful day in a charmed life! Describe your personal fashion style? do you lean toward solids or patterns?LR: I lean towards prints and textures as I like to mix a lot into my lookFashion week is in full swing for Fall 11 what colors, trends, or looks will we see in your line?LR: there is a lot of luxe going on right now, from burnished brocades to dip dyed feathers, I think the fantasy and fun is coming back into fashion.How does your love of fashion tie into your home? LR: I have made so many things for my house that come directly from work. I have chairs embroidered in a thread and sequin pattern we designed for a spring collection as well as quilts I made for my son's bed from old fabric scraps. I just love to surround myself with beautiful fabrics and details as much as possible.What books or magazines are on your bedside table?LR: as I am leaving for India in 2 days, I have been reading many books about India like Shantaram, Salman Rushdie's "Midnight's Child", and "A Princess Remembers" as well as about 4 months worth of The New Yorker.
Lela Rose Fall 2011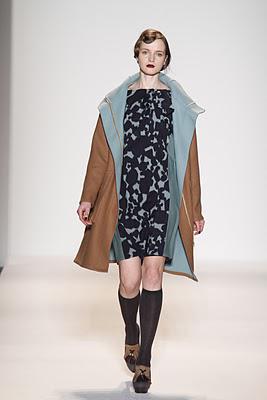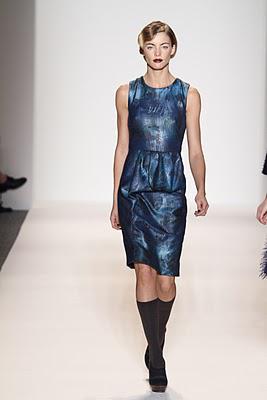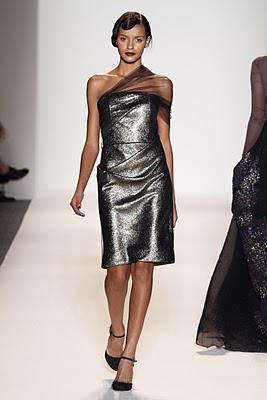 I mean how adorable is Lela riding her trike with Stitch, kind of like Dorothy and Toto, fancy shoes and all! This is a cute little interview with Lela, go Here to see the video.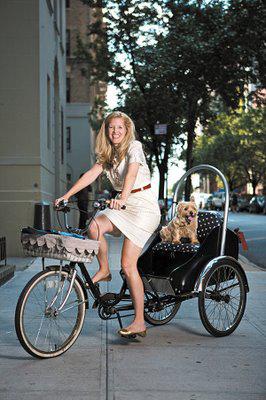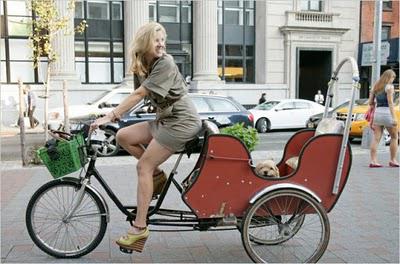 As I mentioned in a previous 

post

 Lela has an amazing home that was NY Times where of course her fashion carries over into her interiors. Yes, that sofa fabric was an adorable skirt in a previous collection.
To see more of her beautiful home and in depth interview visit 

Shelter Pop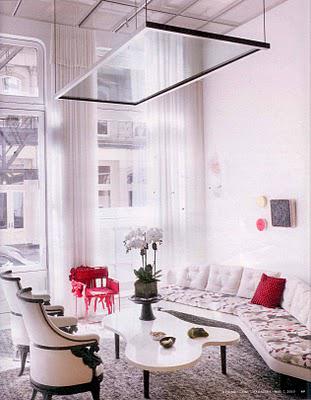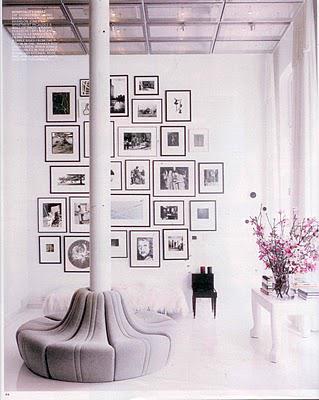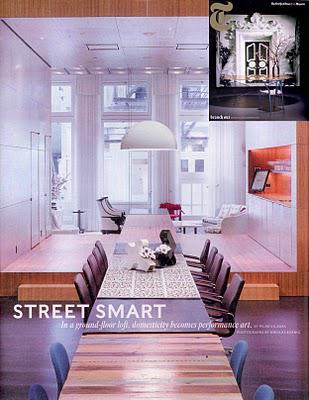 Photos courtesy of Lela Rose

, Marie Claire, 

Source
Have a wonderful weekend!