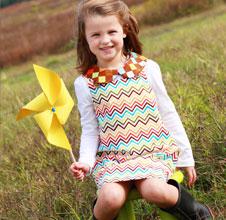 Good day all my friends and welcome to Friday, thank goodness! It has been a rather looong week here but nothing that a 70 degree day (yes I said 70) won't remedy. 
My baby girl has been down all week with a vicious little cold and while I enjoyed her company for the first 2 days home from school, today being the 3rd, had me teetering on the edge of sanity. 
I am more than excited to feature my Friday designer today because she is one of the most talented, vivacious, individuals I have ever had the pleasure of knowing and I am happy to call her my friend. Fleming Harris Samuels is the newest children's clothing designer on the block with her vintage inspired 

Fleming Clothing

. Samuels design background runs in her blood with 

Stuart Walston

 a renowned designer as grandfather to fuel her passion for beautiful prints and textures at a young age. After pursuing a degree in Fine Arts and owning an Art Gallery in Beaufort, NC Fleming moved to the Raleigh, NC area, found the love of her life starting a family of her own...the rest they say is history. Fleming so graciously is giving us the Friday inside on what inspires her and the looks she loves for children. Thanks Fleming!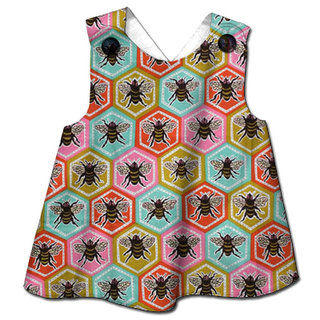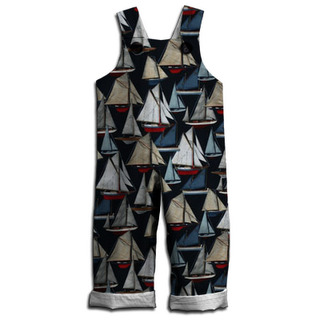 Where are you from?



Wilson, North Carolina


What you led you into designing children's clothing?
I have always been drawn to working with fabric from being around my grandfather's interior design shop in Wilson, North Carolina.  He worked in some of the most beautiful homes in the state and used magnificent fabrics from designers like Scalamandré, Brunschwig and Fils, and Schumacher.  I remember seeing the way he contrasted fabrics against each other to create a look and I was fascinated by the process.  I missed seeing those rich contrasts in my life and saw an opportunity to design with all those wonderful colors again when I started making children's clothing because only children can put such unique combinations together and carry them off every day.  
Describe your style?
It's hard to describe our style because we love everyone's style.  We try to take classic shapes and give everyone a chance to make what they love.  We have ultra-modern fabrics that you can contrast with something classic, or put two two textures of fabrics together that maybe you can't find in a typical retail store.  
What are some of your favorite looks, items?
My favorite look that we have is called the "Mille" after my daughter.  It's our core look that was inspired by the clothing i saw in photos from my childhood as well as my mother's. It's a dress that is a-line in front and the straps cross over the open back.   We pair it with a pair of ruffled bloomers that really allow the designer in anyone to come out.  It can be layered with a shirt for fall or worn as a light top for hot summer southern days.  Another one of my favorite pieces is called the "Carter" and is a t-shirt with a peter pan collar.  We have a modified version with a peaked collar for boys.  i just think that t-shirts can have great style and be fun at the same time.  i love seeing free light clothing on children that is individual and classic.  i feel like children can be comfortable in their clothes without sacrificing style.
What other designers do you admire and what or who do you look to for inspiration?


i look to designers who push boundaries with colors.  One designer, Lela Rose, is so inspired with her bold palates.  I am constantly in awe not only her color combinations but with her fabric designs themselves.  I also love vintage children's clothing.  I can't get enough of vintage advertisements of children's clothing from the 1920s.  They put ruffles on their ruffles.  I love the decadence of those clothes and try to modernize those looks.   


Can you give me a brief summary of " a day in the life" of Fleming Samuels?
I wake up around 6:30 and try to get out the door as soon as possible.  My drive to our production studio is about 45 minutes and my sewers start arriving at 8am.  We manufacture all our own clothing and there are always things that need to be tweaked with the sewing machines in order to be fixed to keep the day running smoothly. My assistant is fantastic and she will have organized all the orders for the day and we like to plan the cutting around the patterns to make the best use of our time.  I usually have calls to fabric houses to see what is coming out and samples to order.  We are constantly working on new patterns and there is so much involved with the sample sewing and pattern-making that I could spend all day on that alone.  I have lunch at my desk and enjoy spend time calling my wonderful friends who are hosting future trunk shows of Fleming Clothing and see if there is anything i can do to help.  By the afternoon I make it back out into the production area and work with our patterns again and see how the customers orders are coming along and get things ready for pick-up by 3pm.  It's one of my favorite parts of the day because I love seeing what people can put together.  Sometimes I see things i never imagined and I am amazed with all the new ideas the customers designs give me.In the afternoons I try to talk to our marketing consultant because we have so many projects that we want to implement we have to plan how to fit them all in.  I leave around 4:30 in order to pick my daughter up from school and we come home and play and spend some great quality time together.  My husband and I try to have dinner as a family as often as possible and then it's off to bath and bed by 8pm for my Mille.  I try to answer a few emails, catch up on some over due reality television and go to bed by a decent hour.  
Describe your personal fashion style? do you lean toward solids or patterns?


I love solids in amazing fabric textures.  I have to wear jeans to the workshop most days so i like statement tops in layers that I can throw on over a t-shirt for a last minute stylish look if a meeting suddenly pops up.  


Fashion week is in full swing for Fall 11 what colors, trends, or looks will we see in your line?
Fabric designers are sending me their books right now.  i can't wait to see what we roll out for the fall myself.
What books or magazines are on your bedside table?


Currently I have Steve Martin's new book _Object of Beauty_ .  I have been a big fan of his since _Shopgirl_, and this novel has not disappointed me in the least, it's hard to put down.  I also have _Seven Days in the Art  World_ and a great spy novel by Daniel Silva called _The Rembrandt Affair_.  I love non-fiction as well and maritime history is one of my favorites so I have a new book about a German Raider in WWII called _Wolf_.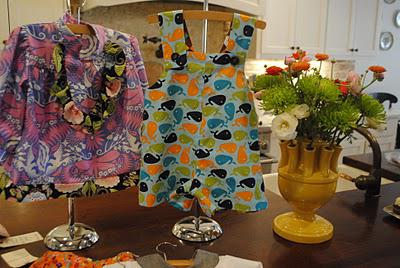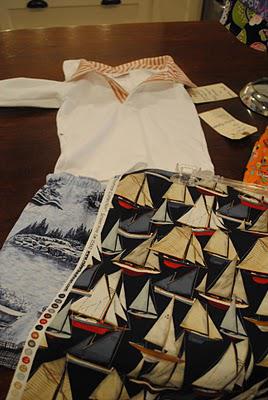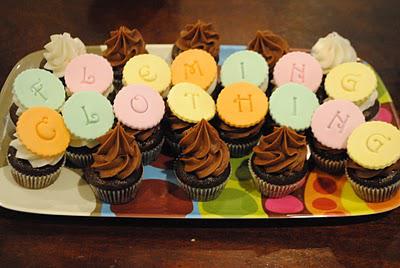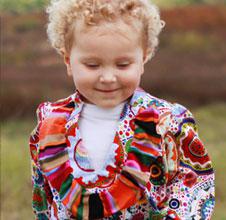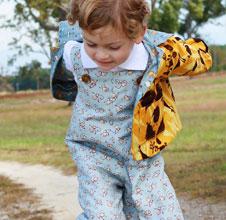 Fleming Clothing