Years ago, there was a big difference between drugstore beauty products and that of department and specialty stores. Consistency, longevity, ingredient list... you got what you paid for. No more, when many drugstore brands have better ingredients, better manufacturing practices, and make their products often in the same factories as their more expensive sisters.
I used to be a hair product snob, and only bought what was sold by my stylist (or the same brand bought online for cheaper). I knew the damaging effects of sufates, I had enough stylists tell me the horrors of drugstore products to choose the fancy stuff to protect my color, my tresses, and even my health. But recently, a lot of drugstore hair brands have improved like their aisle next-door neighbors, makeup and skincare. I started trying different products from the haircare aisles of CVS, Target, and Walgreens and have had mixed, though primarily pretty positive results.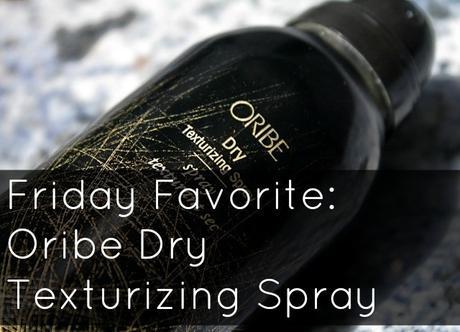 When I went shorter with my hair last summer, I really wanted that tousled bedhead "French girl" look. Nothing too polished, too shiny, too perfect. Every advice column suggested Oribe Dry Texturizing Spray to achieve the look, but there was no way in hell I'd spend $40 for a bottle of hairspray. I tried Garnier's Texture Tease and liked it (my review), thanks to my friend Erin's recommendation I bought Not Your Mother's Double Take and liked it even more than Garnier but didn't love it. I've tried more dry shampoos than I can count, but neither really achieved the It Hair in my head.
We got a tax refund this year, which is rare when you own your own businesses and have fluctuating years. Go insane medical bills! Anyway, I decided to give myself a little treat and bought a bottle of Oribe Dry Texturizing Spray. Heck, I could spend such money on a mediocre dinner, a clearance dress I only wear once, what if it IS the Holy Grail of French Girl Hair?
Um, it is.
I didn't want to write this. I so wanted to say it's no better than NYM or Garnier... but it's not. This is a very fine mist, and it makes your hair feel a bit rough, but still silky. It creates body without it looking like there's product in your hair. It hold hair, but not like hairspray, it feels more natural. You can wake up the next morning and still manipulate your hair and look messy cool but not disheveled, and you can't apply too much. I will apply it in the morning, touch up my hair after work with it, and wake up the next morning and use more and it never looks ashy, dirty, or greasy. Oh, and hardly any scent!
Saturday, I attended an afternoon outdoor wedding. Karl was photographer and Emerson was invited, so I'd be running around as his assistant and also taking care of a kid. Maryland humidity, high temps, and a chance for rain which made the air feel like pea soup. I washed my hair, putting in some anti-humidity serum, let air dry a bit while I got dressed, then blew dry the last bit, scrunching into waves. Used the curling iron to fix a few places, then sprayed it to death with Oribe. I decided to clip one side back so sweaty scalp wouldn't be as obvious, and used the Oribe to keep my sideswept bangs sideswept. No hairspray, no mousse, no gel, just Oribe. And considering it was insanely hot and humid and there was an intense downpour I got caught in multiple times, my hair didn't look that terrible. I think the Oribe spray actually kept my hair from looking as sweaty as it normally would.
I didn't want to, but I think Oribe Dry Texturizing Spray is worth the hype and the price, and I think I'm going to have a better relationship with my hair this summer because of it.