If you subscribe to my newsletter you already read some of these thoughts in the September Style File.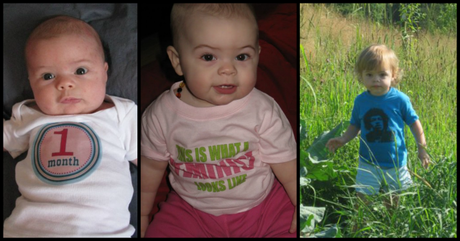 Six years ago, Emerson was born. At Etsy I found stickers to put on her onesies for each month of her first year, a custom vinyl wall decal with her name in pink script,
letterpress cards
with quotes by Ralph Waldo Emerson to frame in her room, and amazing unique baby announcements. We decided to cloth diaper and I regularly went to Etsy for unique looking cloth diapers,
reusable wipes
, wet bags, special detergent for cloth diapers, and plenty of fleece and woolen pants made for "fluffy" diaper bum. I even found reusable nursing pads that worked phenomenally well and were less visible than the disposable versions. Etsy was the best place for unique onesies and tees for her little baby body (and
great gifts for friends who had babies
).
Five years ago, my best friend got married. I bought a high-resolution JPG from Etsy and uploaded it to VistaPrint where I had it printed on cardstock. My friend got her invites, wedding bands, garter, and flower girl dress from Etsy. I gave her a shower gift of personalized thank you cards.
Three years ago I ran out of my stash of cotton rounds from my years with The Body Shop and went to Etsy and scored some reusable cotton versions that I still use to this very day. Since having Emerson we've made a conscious decision to reduce waste and chemicals used in the home; from Etsy we've found washable sponges, wool dryer balls, unique cloth napkins and dish towels, natural body products and home cleansers.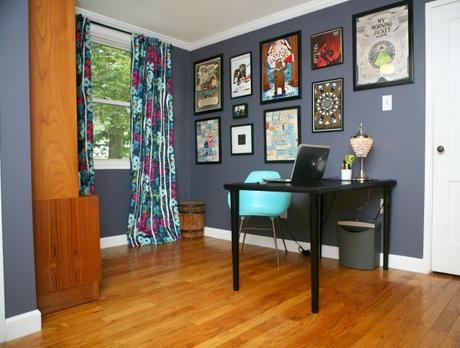 When
I redecorated our home office
, I had
custom curtains made
by
Etsy seller OnlyLinens
. My sister has had pillow covers made, and I've purchased many awesome knickknacks, vintage and handmade home accessories, and
plenty of mugs with witty sayings or images
.
This Christmas, I gifted my Outlander-loving sister with coasters covered with sayings from the series, a button that says, "Jesus H. Roosevelt Christ" and a totebag in the popular style of white words on black saying James Alexander Malcom Mackenzie Frazier. I bought Emerson a personalized pink duffle bag for dance class, a vinyl decal house number for our mailbox and another house number for the home made of license plates.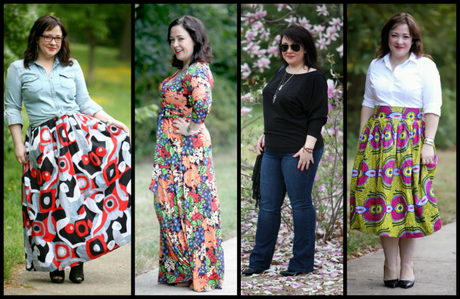 I never really considered Etsy for fashion, outside of a funny message on a tee or some eclectic jewelry. That is until I found
this dress
. I then bought
this skirt
, and found some vintage pieces in large enough sizes for me like
this dress
. However, I found a lot of stores on Etsy didn't carry my size; pieces would be labeled as XL or 12/14 but I'd get them and they'd be skin tight. I got my measurements done, and began asking Etsy sellers if they would offer items they were selling in larger sizes, and offered measurements. And you know what? Many of them have said yes.
These days, a heck of a lot of my wardrobe is from Etsy. I love that I know where the seller is located, I love that I usually end up with one-of-a-kind pieces. I'm supporting independent artists, and having email conversations with them, better personalizing the experience. I'm creating my unique personal style, not being a carbon copy of every other person who shops at mass retailers, and often end up with better fitting pieces because they are often custom made just for me.
Before you click "buy" on a quirky tee shirt from a mass retailer, check Etsy. I saw the character Rachel on UnREAL wear a gray v-neck tee that said, "This is what a feminist looks like." I went right to Etsy to find similar, and ended up purchasing this shirt in three sizes - one for me, one for Karl, and one for Emerson (the shirts are super soft but note they run a bit big). I was extra thrilled to be supporting a Maryland-based seller. Karl has a thing for goats, so for Father's Day I went to Etsy and searched goat and found this funky tee shirt.
All my jewelry that garners compliments is from Etsy. From my bamboo earrings with my name on them to the silver bands I wear on my right hand with Karl and Emerson's names on them, they're from Etsy sellers. I've found quirky handmade pieces, vintage accessories, bold cocktail rings and delicate bands that are so popular but unlike mass retailers are available in my size.
If you're frustrated that you can't find what you want in your size at mass retailers, take a gander on Etsy. If the seller doesn't have your size, message her and ask if she can do custom work. Get your measurements, always add an inch at the waist, and take your chances. While the return policy isn't as good, it's worth the risk to support small businesses and make your wardrobe custom and completely you.
Do you love Etsy like I do? Give some seller love in the comments and link to your favorite shops, items, and share your experiences!