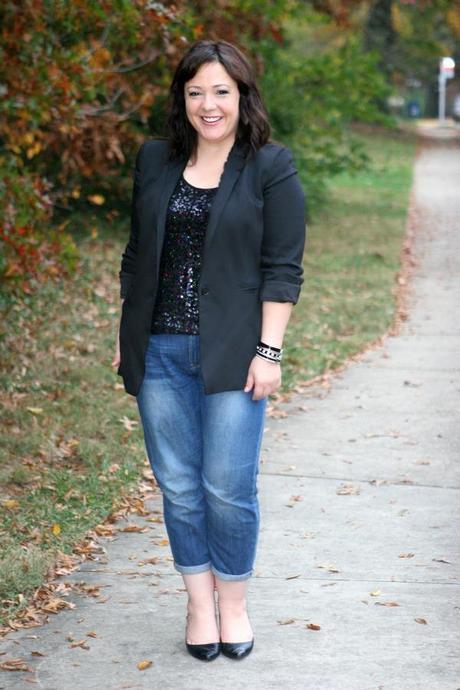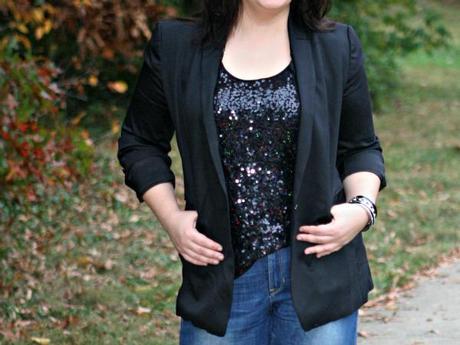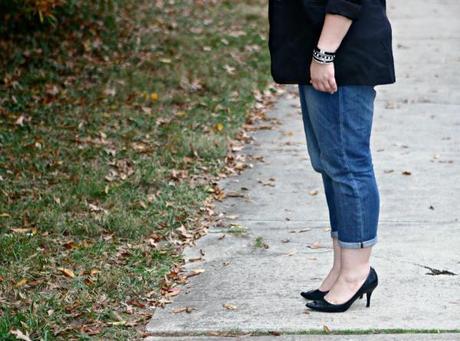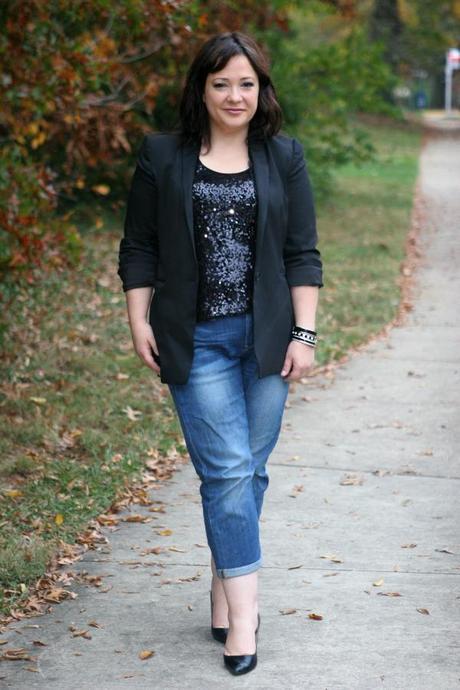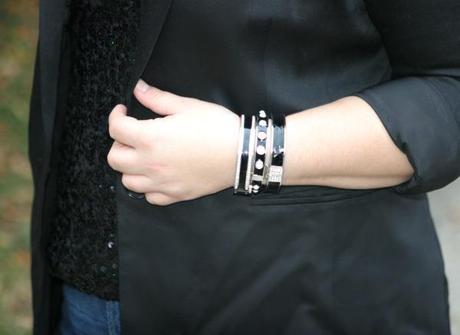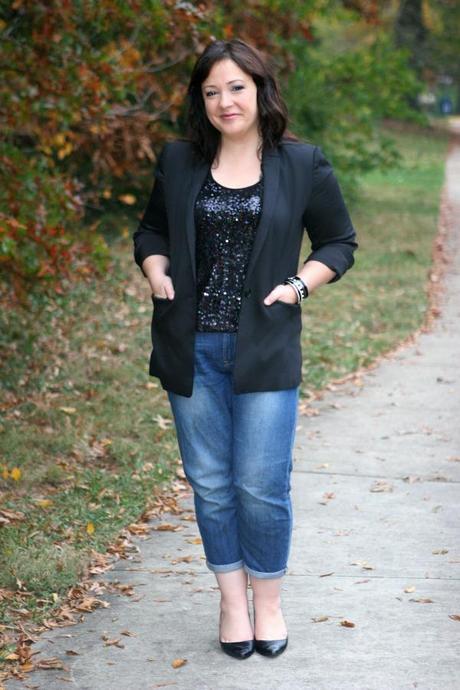 Tank:
c/o
Gwynnie Bee
Tux Jacket:
Ann Taylor
(similar)
Bracelets:
Ann Taylor
(here and here)

Jeans:
Gap
Shoes:
MICHAEL Michael Kors
I was so excited to get my latest
Gwynnie Bee
box - so much sparkle and fun for fall! This tank was one of the pieces and it's reason # 4,521 why Gwynnie Bee rocks. I love sequined tops, but I don't have the lifestyle for wearing them on a regular basis. However, with a
Gwynnie Bee subscription
I can get fun sparkly tops like this just for a bachelorette party, a weekend away, or even an upcoming holiday party. This top comes in a variety of colors too; I love how the black isn't plain, it's iridescent with lots of green that shows up in the light.
If you wear a 10 or larger and are intrigued by
Gwynnie Bee
, I encourage you to
read my review of the company here
. And if you want to sign up, the next few days are the time to do it!
Through October 31, 2012 if you
sign up
for
Gwynnie Bee
and mention
Wardrobe Oxygen
you get a free, 30-day trial subscription
(up to 5 items at a time)
! No risk, no commitment at all. You just have to sign up for the trial prior to the end of this month
(October)
. Cancel on or before your 30 days are up and you won't be charged
(Gwynnie Bee will need their clothes back though)
. New Gwynnie Bee Guests,
request an invite
(the site is invite-only at this time)
, tell them that
Wardrobe Oxygen
referred you, activate your account, browse around and give it a try. You will receive an email with the invite and the trial instruction. Existing Gwynnie Bee guests: you are also eligible to receive the 30 day free trial. You can use your current guest account to browse, then go to the "subscribe" part of the site to activate your trial. Remember to tell them
Wardrobe Oxygen referred you
so you can get the trial! As a reminder, this works with plans up to five pieces at a time.
Have you tried Gwynnie Bee yet?  What do you think of it?
Do know I get a commission for each person I refer to Gwynnie Bee, but I have chosen to partner with them because I really do believe in this company, their service, and commitment to their customers!
Follow Me | Twitter | Facebook